LG Nexus 5X case spot may have confirmed name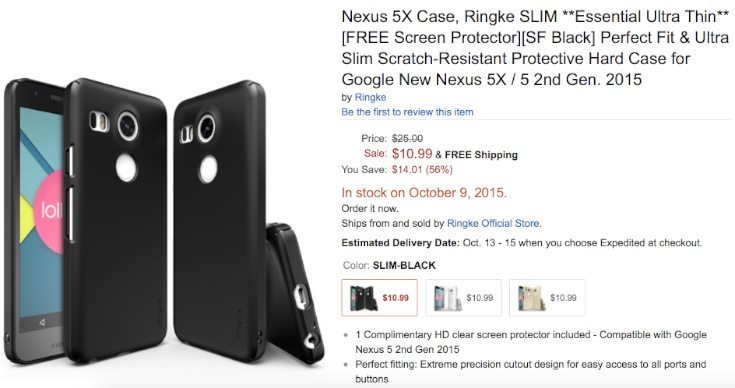 While iOS device fans are still absorbing the news from the Apple event yesterday, Android phone fans have their eye firmly on the new Nexus prize. The signs point to a new Nexus from LG that has been being widely referred to as the LG Nexus 5 (2015) but was recently tipped as the Nexus 5X. Now an LG Nexus 5X case spot may have confirmed the name.
If you've been following Nexus developments you'll already know that a larger Huawei Nexus 6 2015 is also predicted. A September 29 event to launch the two new Nexus phones has been rumored, while recently an October 13 pre-order date was also reported. However, neither of these dates has been confirmed yet so keep that in mind for now.
There has been a torrent of leaks and rumors about the upcoming Nexus phones but even the names are still not official. Recently we informed readers about a report saying that rather than LG Nexus 5 2015, the new Nexus from the company would be titled the LG Nexus 5X. As with the majority of leaks and rumors we had no way of verifying it, but now a case appearance on Amazon implies this could be accurate.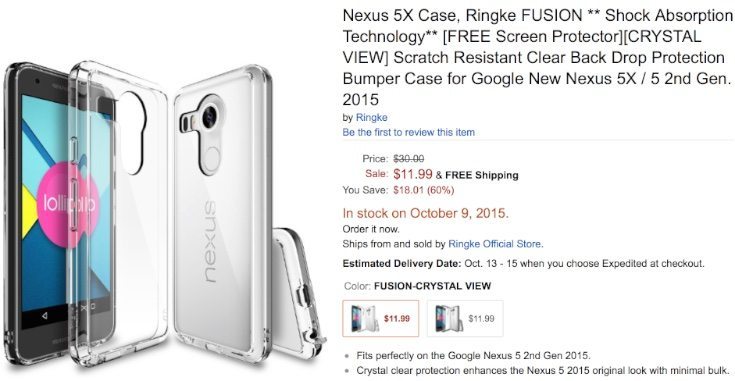 The giant retailer now has orders open for a Nexus 5X case accessory backing up this name (image above). In fact although the listing shows it as a Nexus 5X case, further down in the accessory description the device is referred to as the Google New Nexus 5X / 5 2nd gen. We're more interested in the name of the phone here, but if you're also interested in the case itself we can tell you that it's priced at $11.99.
Interestingly, stock of the Ringke Fusion case is due on October 9 with shipping expected to take place between October 13 and 15. You can check out full details at this product page. In fact we've also just spotted a Ringke Slim case for the Nexus 5X at $10.99 here (image below). While it's always good to hear indicators of the final name, we suspect that what most people want to know about are the official specs and price. Of course we'll bring more news as we hear it on the new Nexus phones.
Do you think the LG Nexus 5X is a better name for the device than the LG Nexus 5 (2015)? Maybe you have more interest in the Huawei Nexus that will also be unveiled?
Via: Phone Arena