LG G4 Pro specs appear through new Benchmark listing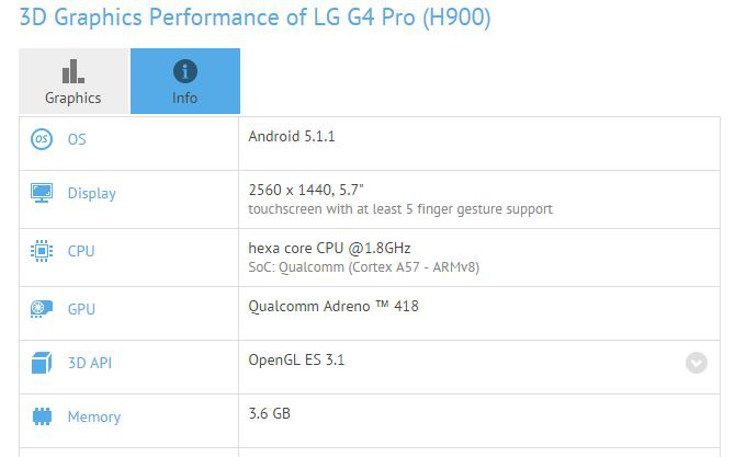 HTC and Google are showing off new smartphones today, and while LG isn't joining the party, they LG G4 Pro release will soon become a reality. The LG G4 Pro specs have just leaked again, but this time it's through a new benchmark listing which gives us a chance to confirm the previous rumors about the beastly device.
Rumors of an LG G4 Pro release first appeared on our radars back in June and we got a good idea of what to expect from the LG G4 Pro specs last month through a juicy leak. Now a device with called the LG G4 Pro H900 has shown up on GFXBench to give us a picture of a large handset in the Note class, and if the specs shake out, it's a minor but solid upgrade over the regular version.
The LG G4 Pro is shown to have a 5.7-inch display with a resolution of 2,560 x 1,440, which makes it a hair larger than the regular model. The processor is still the same Snapdragon 808, but the RAM has been kicked up to 4GB. The storage capacity is larger as well at 64GB, but as you'd expect there is no mention of a microSD card slot, so you'll want to keep your fingers crossed for expansion.
On the backside of the LG G4 Pro is the same 16MP sensor, but the front-facing camera has dropped from 8MP to 5MP. One would assume the connectivity options and features will all stay the same. As for the battery, hopefully it will have a larger juice box to counter the increase in RAM and larger display but nothing is listed at this time. The G4 Pro was tested running Android 5.1.1 but could arrive with Android 6.0 on board depending on when it hits the streets.
As you can see from the LG G4 Pro specs, it's not a huge upgrade over the original and about what we expected. Companies can only go so far in a calendar year when it comes to components, and the next big batch of upgraded panels and chips won't be ready until early next year. That means the LG G5 and the LG G Flex 3 will be the ones to watch if you're a specs nut although the LG G4 Pro could still offer up something unique in the design department.
Are you interested in the LG G4 Pro if the specs are legit?
via – Pocketnow       source: GFXBench