FIFA 16 UT gameplay on Galaxy S6 Edge+ vs iPhone 6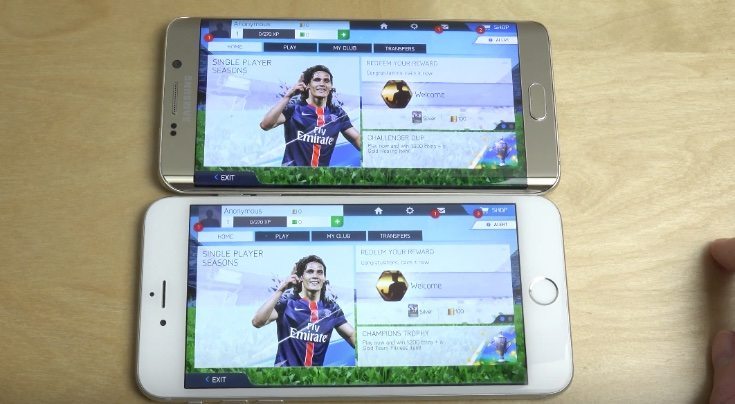 The FIFA 16 Ultimate Team app is now available for Android and iOS devices and many people are getting to grips with the new edition. This is an extremely popular app and it might be interesting to see how the experience compares on two different top devices. We're sharing a video showing FIFA 16 UT gameplay on the Samsung Galaxy S6 Edge+ vs. iPhone 6 Plus.
Before we begin we'll point out that we recently reported on device compatibility issues with the Android version of FIFA 16 UT, so you might want to check that out. Previously we've shown a review of the app on the Samsung Galaxy S6 Edge, and the video we have for you today shows it on the Galaxy S6 Edge+ against the iPhone 6 Plus.
Some key specs of the Galaxy S6 Edge+ are an Exynos 7420 octa-core processor, Mali-T760MP8 graphics, and 4GB of RAM. You'll be able to enjoy your gaming on a 5.7-inch Super AMOLED display with Quad HD resolution of 2560 x 1440. The iPhone 6 Plus has an Apple A8 dual-core processor, Power VR GX6450 graphics, and just 1GB of RAM. It has a 5.5-inch IPS LCD display with Full HD resolution of 1920 x 1080.
Considering the specs we're intrigued to see which offers the best FIFA 16 UT experience, though of course the iPhone 6 Plus is now a year old. It will be interesting to see the same comparison performed again with the new iPhone 6S Plus instead. For now though we're looking at last year's Apple phablet release in the video below that comes from Adrianisen.
The reviewer points out at the beginning that both the Galaxy S6 Edge+ and iPhone 6 Plus have auto brightness turned on. The next thing noted is that the Galaxy S6 Edge+ display looks particularly good and then you'll get to see the FIFA 16 UT app loading to see which device finishes first. The volume control on both phones is set to 50% and then a short demo of gameplay begins.
First up is the iPhone 6 Plus with the reviewer making various observations about how the game feels to play on this handset. The video moves on to showing FIFA 16 UT on the Galaxy S6 Edge+, and we have to say that this is looking pretty good. We'll let you watch the comparison to find out which device the reviewer chooses for offering the best experience of this game.
Are you already enjoying (or not) FIFA 16 UT? From the brief gameplay shown on the Galaxy S6 Edge+ and iPhone 6 Plus, which would you pick as the winning device?
Source: YouTube
https://www.youtube.com/watch?v=BMLcCKZC9N4://