Moto X Pure (Style) vs LG G4 speed testing winner is…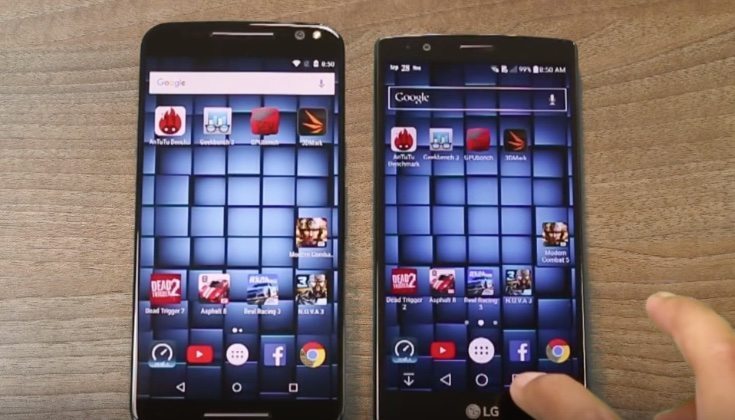 When Motorola recently introduced one of the new Moto X 2015 smartphones phone they decided to call it the Moto X Pure Edition for the US and the Moto X Style for other markets. As Motorola's flagship it's a popular handset and one of the other flagships it will come up against is the LG G4. For your delectation today we have a Moto X Pure (Style) vs. LG G4 speed test that looks at various different aspects to come up with an overall winner.
For convenience we'll refer to the new Moto X as the Moto X Pure for the rest of this article. This particular speed comparison should be extremely interesting considering that the Moto X Pure and LG G4 both carry a Snapdragon 808 hexa-core processor (2 cores at 1.82GHz and 4 at 1.44GHz) and Adreno 418 graphics. Both also have 3GB of RAM, and run the Android 5.1 Lollipop operating system. The Moto X Pure has a 5.7-inch IPS LCD display while the LG G4 has a 5.5-inch version. Both screens have Quad HD resolution of 2560 x 1440.
Going by the specs on paper we'd expect the speed results of these two devices to be very close. The comparison we're sharing today of the Moto X Pure /Style vs LG G4 speed testing comes from L BS. It runs through a wide gamut of different types of tests and shows both phones alongside each other throughout. After each test a counter ticks up against the winning device so that you'll see an ultimate victor at the end.
The real-world testing also measures heat output from the two devices so that you can compare this as well. The first testing involves the Ookla Speedtest and after this you'll see various examples of web browsing and games being opened. You'll then see an AnTuTu test with the reviewer noting that overheating can affect benchmark results, and this is followed by a Geekbench 3 test and other benchmarks. The final test is a bootup speed test, and in fact this one is a dead heat.
Overall there's a very clear final winner, but we're not going to ruin the suspense before you watch the video. It's perhaps surprising that one of these devices is so far ahead of the other for the total score, although we should remember that in most cases the difference in speed was minimal.
When you've viewed the speed testing of the Moto X Pure / Style vs LG G4 we'd like to hear your thoughts. Did the final result surprise you at all?
Source: L BS (YouTube)
https://www.youtube.com/watch?v=JC7fo5qJDJw://