Samsung Galaxy A9 components listed for testing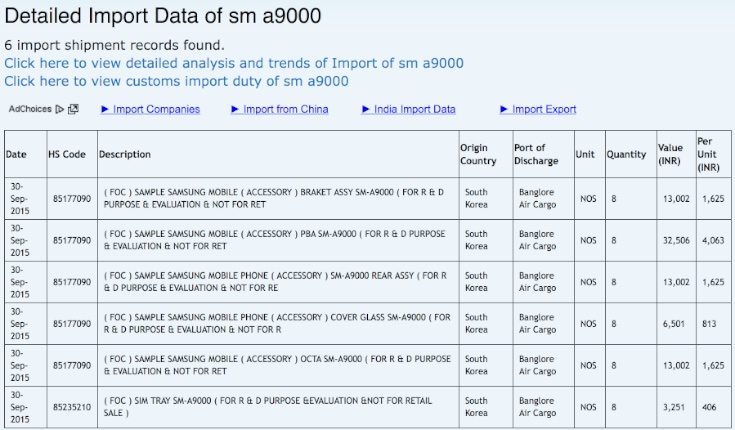 The Samsung Galaxy A3, A5, A7, and A8 smartphones have already released and last week we started to hear some rumblings about the Galaxy A9. It was reported that it was already in development and due for a release at some point in the future. Now there has been a sighting of Samsung Galaxy A9 components listed for testing as further evidence of the device.
Earlier this year Samsung trademarked the Galaxy A9 name, so it certainly makes sense that it's on the way. We often see signs of upcoming devices on import-export listings, and in this case it's some components for the Galaxy A9 that have been spotted. Once again it's Zauba, an Indian import and export site that has thrown up this appearance.
The database listing contains some parts for the Samsung Galaxy A9 with model number SM-A9000. These include the main board, cover glass, SIM tray, and other accessories so this seems to pin down once and for all that the device is in the pipeline. However, as this testing and evaluation is only for individual components in small amounts and not for a whole unit of the Galaxy A9, it could be some time until the eventual launch.
This is especially the case as the Samsung Galaxy A8 only released in August and the company would not want to impact sales of that device with an A9 so soon after. We've heard nothing about Galaxy A9 specs yet, but we'll be keeping our eyes open for more. In the meantime you might like to check out a concept design of the Samsung Galaxy A9 that we shared earlier in the year that came with its own specs sheet.
Are you a prospective purchaser of the Samsung Galaxy A9 when it finally reaches a release? What would you like to see in the way of specifications for this smartphone?