Some BlackBerry Priv specs confirmed on registration page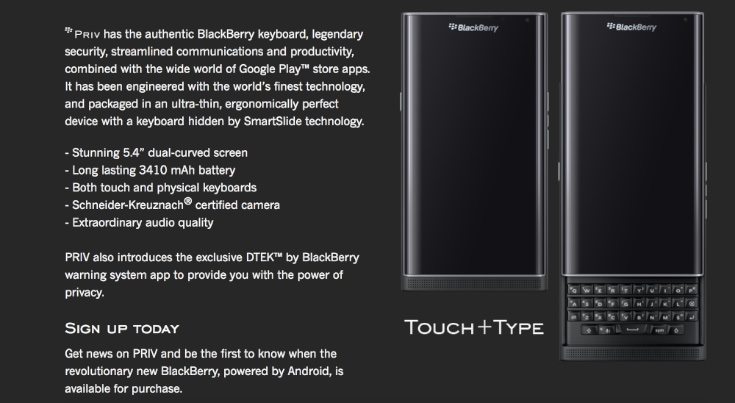 Although BlackBerry's fortunes have been declining in recent years there's still plenty of interest in the upcoming BlackBerry Priv smartphone. There have been numerous leaks and rumors about this upcoming Android-running handset, and now the official BlackBerry Priv registration page confirms some specs and more.
For many months this new device was dubbed the BlackBerry Venice. However, last month we finally heard the name would be the BlackBerry Priv, pointing to the privacy and security aspects of the phone. We've also seen several leaked photos of the handset, and earlier this month showed some new images. BlackBerry expects the Priv late in the year and as we're already in mid-October the launch might not be too far away.
This is backed up by the fact that BlackBerry has now posted a registration page for the phone, so that potential buyers can register their interest. If you choose to sign up you'll receive updates on the BlackBerry Priv with the latest news. You'll also be among the first to know when the device will be up for grabs. The page also gives us a nice look at the device, which is dubbed as the "World's first BlackBerry secure smartphone powered by Android."
As well as this, the page details a bit more about the specs and features of the BlackBerry Priv. It's confirmed as having a 5.4-inch dual-curved screen, Schneider-Kreuznach camera, and a 3410 mAh battery. Other details shown are the physical keyboard that uses SmartSlide technology (the phone also has a touch keyboard), and the handset is described as having "extraordinary" audio quality. The privacy aspect of the phone is also played up, with mention of the DTEK by BlackBerry warning system app.
The above details match with the previously leaked but unconfirmed specs so far. Other leaked specs include a Snapdragon 808 hexa-core processor, Quad HD resolution for the 5.4-inch display, 3GB of RAM, an 18-megapixel rear camera with 4K video capture, a 5-megapixel front-facing camera, and 4G LTE support.
The BlackBerry Priv is certainly generating a lot of talk right now, and who knows, it could be the device that sees a resurgence for the brand. As it's now getting closer to a release we'd like to know if you will register your interest in the phone at the BlackBerry source below? What is it about the BlackBerry Priv that most appeals to you? Send your comments to let us know.
Source: BlackBerry