YotaPhone 3 price tag tipped for release next year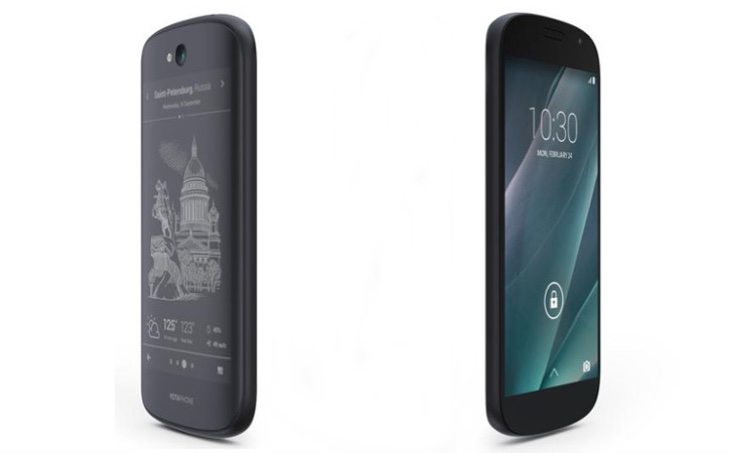 Yota is a name that many smartphone buyers will not have heard of but it has a rather unique product. The company has already released the original YotaPhone followed by the YotaPhone 2, and now there's some news on the YotaPhone 3 price as well as some further details.
YotaPhone has a niche spot in the market and so far the devices have featured a dual-screen arrangement. This consists of a regular front display and also an e-ink screen on the reverse. Back in May we informed readers that the company already appeared to have confirmed a YotaPhone 3 release, and now a Bloomberg report has filled in some of the blanks.
It was originally planned that the YotaPhone 2 (pictured below) would launch in the US but that idea was eventually sadly abandoned. However, there are new suggestions that the YotaPhone 3 might see a more widespread release. Yota is originally a Russian company but last month a deal was struck to sell 65% of the firm to an investment holding company based in Hong Kong, Rex Global Entertainment Holdings Ltd.
The company now has plans to expand its growth in the Chinese market. Bloomberg reports that Chinese company ZTE will be collaborating with Yota on the YotaPhone 3, as well as other unnamed manufacturing partners. Significantly Yota CEO Vlad Martynov has discussed expectations of 1 million handsets in global sales per year, with over half possibly from the Chinese market.
Of course this could mean that the YotaPhone 3 will also release in the US. Yota is obviously doing something right, with the YotaPhone and YotaPhone 2 already under its belt and a third on the way. The cancellation of the YotaPhone 2 for a release stateside also led to plenty of disappointment after a successful funding campaign on Indiegogo. Therefore the idea of a US launch for the YotaPhone 3 would appeal to many potential buyers. However, this is unconfirmed at this stage.
As well as naming one of the Chinese manufacturing partners for the YotaPhone 3, Bloomberg says that the phone should hit availability next year. Not much is known about specs and features just yet but you can bet it will have the familiar dual display setup. Previous rumors have suggested it will have improved displays for both back and front, more RAM, an improved processor, and better cameras.
The report also says that Yota hopes to make the phone more affordable given its partnership with Chinese manufacturers such as ZTE, and gives an expected YotaPhone 3 price of approximately $550 in this respect. It's good to hear some fresh news about the next-generation YotaPhone and we will be following developments with interest.
Do you hope that the YotaPhone 3 will make it to a US release this time around? Send your comments to let us know what you think about this upcoming smartphone.
Source: Bloomberg