iPad Pro vs Surface Pro 4, an oddball comparison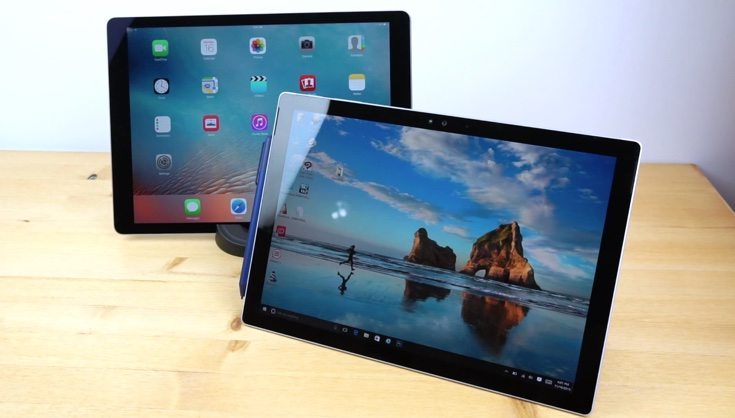 There will be a lot of people adding a new tablet to their holiday wish lists this year, and the Apple iPad Pro and Microsoft Surface Pro 4 are both recent high-end offerings. If you like the look of both of them and can't decide which one to go for, the iPad Pro vs Surface Pro 4 oddball comparison that we're showing today could help you out.
Before we get to the video comparison we'll outline some key specs of each. The iPad Pro gets its power from an Apple A9X processor with M9 motion coprocessor, and its display is 12.9-inches in size with resolution of 2732 x 2048. It has 4GB of RAM, 32GB or 128GB models for internal storage, an 8-megapixel rear camera, and 1.2-megapixel front-facing snapper. It runs the iOS 9.1 operating system.
The Microsoft Surface Pro 4 comes in various configurations and is powered by a 6th gen Intel Core m3, i5, or i7 processor. It has a 12.3-inch display with resolution of 2736 x 1824. Further configurations are 4GB, 8GB or 16GB of RAM, and 128GB, 256GB, or 512GB of storage. There's an 8-megapixel rear camera and 5-megapixel front-facing camera, and it runs Windows 10 Pro.
Both of these also have accessories such as the Surface Pen or Apple Pencil, and keyboard covers that make it more of a laptop experience. They have extensive features and plenty to offer users, so how do you choose between them? Beneath this article we've embedded an excellent comprehensive iPad Pro vs Surface Pro 4 comparison from MobileTechReview. It's 19-minutes long so will give you a really good idea of how they stand up against each other along with some interesting insight. We've referred to is as an oddball comparison as in many ways these tablets offer quite different experiences.
The reviewer runs through many different aspects for both tablets including the designs and hardware, software, displays, accessory use, battery life, and more. The comparison details some pros and cons of both devices along the way, and sums up which might be best depending on how you most intend to use it. The iPad Pro price starts at $799 while the Surface Pro 4 starts at $899 and the accessories are extra. It would be remiss of us not to mention a recent charging issue that has been reported for the iPad Pro, although it's not yet clear if this is just with isolated units or not.
When you've watched the iPad Pro vs Surface Pro 4 comparison below we'd be interested to hear if your decision between them is clearer. Will you opt for the Apple iPad Pro or the Microsoft Surface Pro 4? Drop us your comments in the box provided below.
Source: MobileTechReview (YouTube)
https://www.youtube.com/watch?v=S4we95JxevE://