Updated Samsung Marshmallow roadmap leaks, more devices listed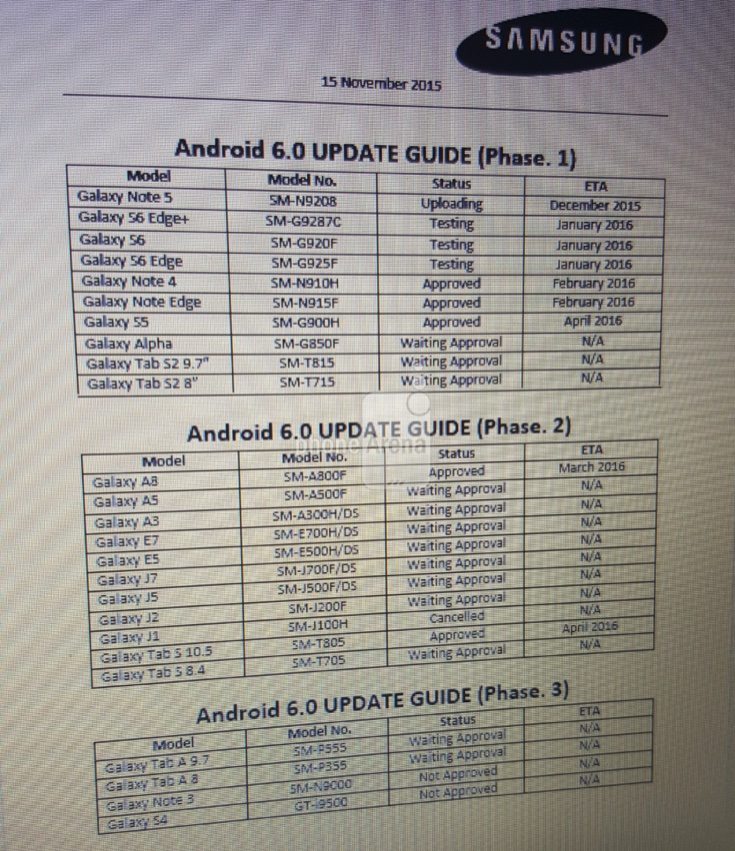 If you have a Samsung Galaxy device you may have read our recent article regarding a Samsung devices leaked roadmap for the Android Marshmallow update. This included smartphones for the first two phases of the Android 6.0 rollout, and timeframes for some of those devices. Now an updated Samsung Marshmallow roadmap has leaked, and more devices are listed along with some changed information.
Two of the devices in Phase 1 on the last roadmap and set to get the Android 6.0 Marshmallow update first were the Samsung Galaxy Note 5 and Galaxy S6 Edge+, both scheduled for December. The latest update shows the Note 5 still for December but the S6 Edge+ pushed back to January 2016. Whereas previously they were listed as 'approved', the Note 5 listing now says 'uploading' showing that the update is imminent. The Galaxy S6 Edge+, S6 Edge, and Galaxy S6 now all say 'testing' and are listed for January.
The Galaxy Note 4, Note Edge, and Galaxy S5 are all marked as 'approved,' with the first two to receive Marshmallow in February, and the Galaxy S5 not until April. Meanwhile the Galaxy Alpha is still 'waiting approval, and two Galaxy Tabs have been added to the devices in Phase One and are also waiting approval. They are the Galaxy Tab S2 9.7-inch and Galaxy Tab S2 8-inch. Timeframes for these latter devices are not available yet.
Meanwhile in Phase 2 of the rollout the Samsung Galaxy A8 is 'approved' for Marshmallow and scheduled for March. The Galaxy A5, A3, E7, E5, J7, J5, and J2 are all listed as 'waiting approval' with no dates for the update. The Galaxy J1 update is shown as 'cancelled,' which doesn't look promising. The update for the Galaxy Tab S 10.5 is 'approved' with an April time given, while the Galaxy Tab S 8.4 is still 'waiting approval'.
Previously we told how Phase 3 would commence after initial testing, but there were no details of which devices would be in this phase. The updated roadmap now shows Phase 3 devices as the Galaxy Tab A 9.7 and Galaxy Tab A 8, both 'waiting approval.' The devices listed for this phase also include the Galaxy Note 3 and Galaxy S4. However, they are both listed as 'not approved' so it doesn't look as though they will be upgraded to Marshmallow. You can all of the devices and model numbers in the image below.
The latest leaked roadmap is much more comprehensive than the previous one. However, you'll need to bear in mind that even when Android Marshmallow does start rolling out for these devices, it could take some time to reach various regions and carrier versions. We'll keep you updated with further updates as they come to us, although as we recently discussed, we still think Samsung could be more transparent in providing this type of update information to its customers.
Are you itching to update your Samsung Galaxy device to Android 6.0 Marshmallow? Is your Samsung smartphone or tablet listed on the new roadmap schedule for the Marshmallow update?
Source: Phone Arena