Moto G vs vs OnePlus X vs Xperia Z5 Compact in mini clash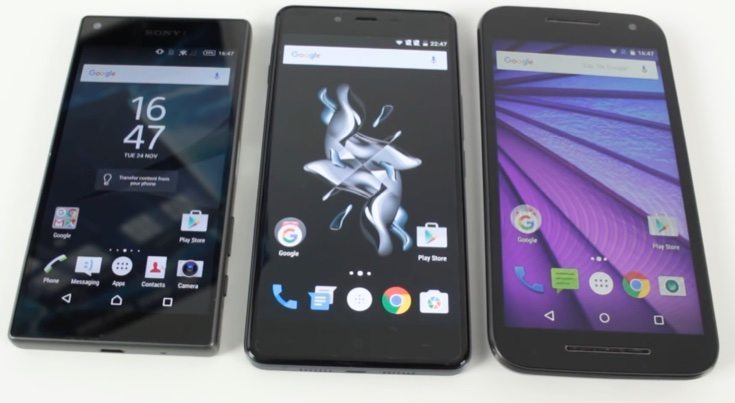 There has been a real trend towards larger screens for smartphones (phablets) over the last few years. However, there are still plenty of people who prefer a phone with a smaller more compact form. Today we're looking at three of those currently on offer, with a comparison of the Moto G vs OnePlus X vs Xperia Z5 Compact in a mini clash.
The Moto G 3rd gen released in the summer and sports a 5-inch display while the OnePlus X is a very recent arrival that has the same screen size. Meanwhile the Sony Xperia Z5 Compact released last month and has a 4.6-inch display. As they are all smaller handsets it would be easy to think they have similar specifications. However, there are some real differences in this regard, and there are also big disparities with pricing.
To sum this up and make things a little clearer, we've embedded a video below this article from Android Authority. In the introduction we hear that in many ways the Moto G is a smaller (and lesser specced) version of the Moto X range. The OnePlus X is smaller than both the OnePlus One and OnePlus 2 that preceeded it, while the Sony Xperia Z5 Compact has a smaller size than the regular Xperia Z5.
The video comparison offers plenty of insight into these three phones as it attempts to outline the differences between them. The first segment discusses the prices, with the Xperia Z5 Compact notably the most expensive of the three. It will be interesting then to consider the specs on offer for those prices. Following this the review goes on to cover various smartphone aspects, specs, and features.
A few of those discussed and shown are design and builds, displays, processors, storage, battery life, camera performance, and the different software experiences. In the summary it's pointed out that the Xperia Z5 Compact may lead the field in terms of specs, but that you'll pay significantly more for the privilege. Ultimately only you can decide whether the extra money is worth it, or whether you'd rather save some cash and buy a OnePlus X or Moto G.
The video below nicely clarifies what these three smartphones have to offer, and after you've checked it out we'd like to hear from you. In the battle of the Moto G vs OnePlus X vs Xperia Z5 Compact, which are you most likely to buy?
Source: Android Authority (YouTube)
https://www.youtube.com/watch?v=gTW7jrpF-qQ://