LeTV Max Pro X910 specs reveal shows Snapdragon 820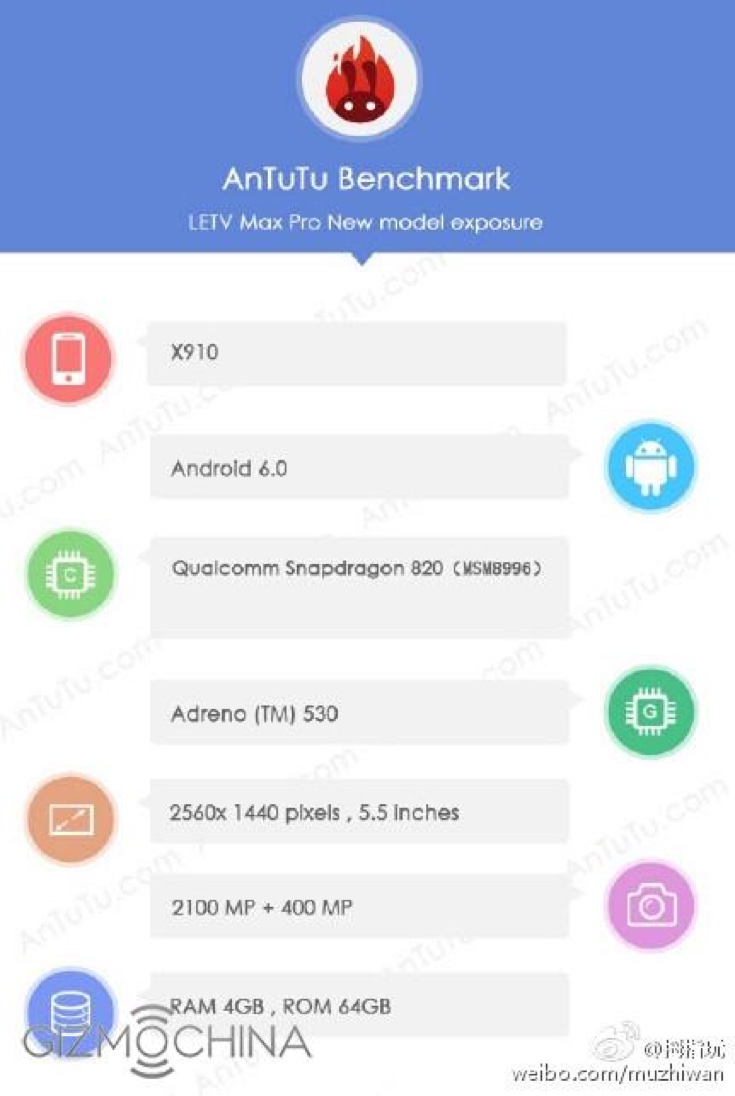 LeTV is a well-known smartphone manufacturer in China, though not as well known in other markets. Some readers may have heard of the LeTV Max that arrived earlier in the year and impressed many with its high-end specs. Now another device from the company has been spotted in benchmarking, and some LeTV Max Pro X910 specs have been revealed. This looks to be another top-flight device, but with a more practial size than the LeTV Max.
The Le smartphone series combine top specs with a premium design and build, and the LeTV Max Pro X910 is unlikely to be an exception going by this new leak. The phone has turned up for AnTuTu benchmark testing, and the listing shows some very desirable specifications. These include the new Snapdragon 820 quad-core chipset (paired with Adreno 530 graphics) that is currently creating plenty of attention and is set to be included in many of next year's flagships.
Other LeTV Max Pro X910 specs include a 5.5-inch display with Quad HD resolution of 2560 x 1440, 4GB of RAM, and 64GB of internal storage. Camera capabilities are tipped as a 21-megapixel main camera at the rear and a 4-megapixel (most likely Ultra-Pixel) front-facing snapper. The phone is listed as running the latest version of Android, 6.0 Marshmallow.
As usual, the benchmark filing doesn't include any images of the handset, or give any information about when it might release. Nevertheless, we often see official launches of new devices not long after benchmark leaks, so it could be that the LeTV Max Pro X910 will be formally unveiled very soon. If that's the case it could generate plenty of interest going by these leaked specs.
It's worth noting that a few months ago there were rumors about a LeTV Max 2 smartphone. Although that was also said to have a Snapdragon 820 chipset, other rumored specs were a 5.7-inch display, a whopping 6GB of RAM, and a 23-megapixel rear camera. We haven't heard much on the LeTV Max 2, since but we could also be hearing more about that device shortly.
What are your first thoughts about the LeTV Max Pro X910? Drop us a comment using the box provided below.
Source: GizmoChina