Lumia 950 vs Galaxy S6 Edge Plus bootup speed test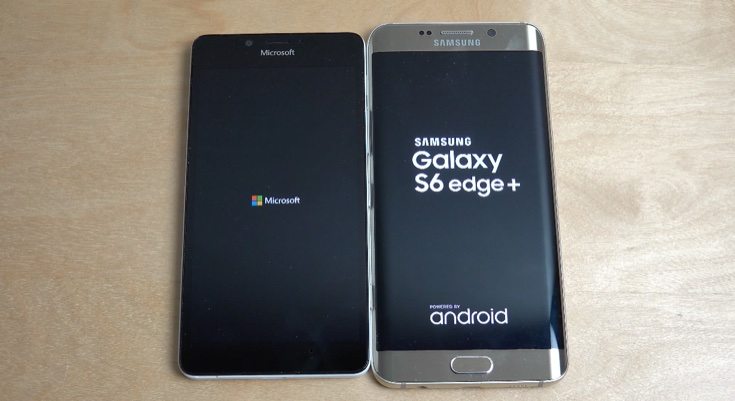 The Microsoft Lumia 950 and Samsung Galaxy S6 Edge Plus are two of the big high-end smartphones of the year on the Windows and Android platforms respectively. The S6 Edge Plus handset is a larger version of the Galaxy S6 Edge with some higher specs, while the Lumia 950 is one of the first devices running Windows 10 Mobile out of the box. Today we're looking at the Lumia 950 vs Galaxy S6 Edge Plus in a bootup speed test.
It can be interesting to see how devices compare in particular aspects, and even more so when they are using different operating platforms. The Lumia 950 has only just started to reach the hands of eager buyers, and as a top-flight Lumia handset it has been hotly anticipated. The Galaxy S6 Edge Plus (S6 Edge+) released in August alongside the Samsung Galaxy Note 5, another popular Samsung phablet.
The Microsoft Lumia 950 is powered by a Snapdragon 808 hexa-core processor (two cores at 1.82GHz and four at 1.44GHz), has Adreno 418 graphics, and 3GB of RAM. It has a 5.2-inch display with Quad HD resolution of 2560 x 1440, and runs Windows 10 Mobile. Also just released is a larger version dubbed the Microsoft Lumia 950 XL.
On the other side of the coin the Galaxy S6 Edge Plus is powered by an Exynos 7420 octa-core processor (four cores at 2.1GHz and four at 1.5GHz), with Mali-T760MP8 graphics, and 4GB of RAM. It has a 5.7-inch display, also with Quad HD resolution, and runs Android 5.1.1 Lollipop with a planned upgrade to Android 6.0 Marshmallow at some point.
As prime examples of Windows and Android devices they both have some impressive specs, so how will they compare in a basic bootup speed test? The answer to that question is shown in the video that we've embedded below this article. You'll see both handsets alongside each other and they are simultaneously powered up to see which one is ready for action first.
We're not going to spoil your enjoyment of watching the video by telling you the winner, so before you view it you might want to try and predict which is fastest to boot up. Following this you'll also get a chance to see some of the differences between the user interfaces, useful if you want to get an idea of what the new Windows 10 Mobile OS has to offer and how it compares to the Android experience.
After you've taken a look at the video below it would be good to hear from you. Did you pick the right winner of the Lumia 950 vs Galaxy S6 Edge Plus bootup speed test?
Source: Adrianisen (YouTube)
https://www.youtube.com/watch?v=ahPrYTWEtUc://