Nexus 6P vs Moto X Pure (Style) specs and more broken down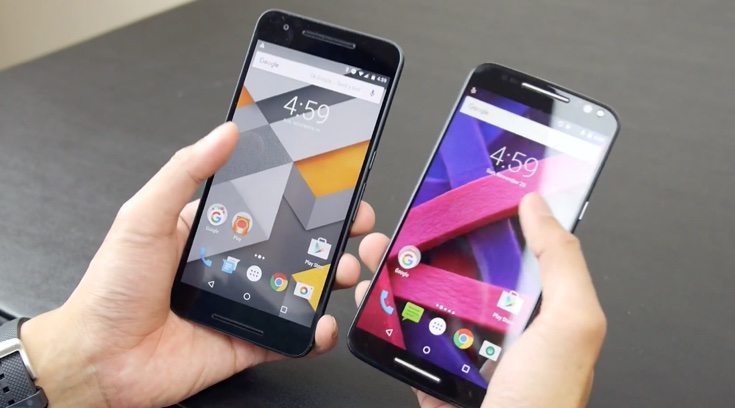 Sometimes when trying to choose between all of the smartphones on the market, it can be difficult to know which might be the best one for you. Take the Huawei-made Google Nexus 6P and the Moto X Pure Edition for example, both Android handsets with the same display size, 4G LTE connectivity and some top-end specs. We're considering the Nexus 6P vs Moto X Pure (Style) in a specs breakdown and a video comparison that shows more.
Two Google Nexus smartphones were released this year, the LG Nexus 5X and the larger Huawei Nexus 6P. The Motorola Moto X Pure Edition released around the same time, and is known as the Moto X Style for international regions, so this comparison can be used whether you've shortlisted the Moto X Pure Edition or Moto X Style.
Processors
The Nexus 6P is equipped with a Snapdragon 810 octa-core processor (four cores at 2GHz and four at 1.55GHz) and Adreno 430 graphics. The Moto X Pure (or Style) has a Snapdragon 808 hexa-core processor (two cores at 1.8GHz and four at 1.44GHz) and Adreno 418 graphics.
Display
The Nexus 6P has a 5.7-inch AMOLED display with Quad HD resolution of 2560 x 1440. The Moto X Pure has a 5.7-inch IPS LCD display with the same resolution.
RAM and Storage
The Nexus handset has 3GB of RAM and comes in internal storage models of 32, 64, or 128GB (non-expandable). The Moto X Pure also has 3GB of RAM, but internal storage models of 16, 32, or 64GB, this time expandable via microSD to 128GB.
Camera set-up
The Nexus 6P has a 12.3-megapixel rear camera with laser autofocus, dual LED flash, and 4K video capture. It also has an 8-megapixel front-facing camera. The Moto X Pure has a 21-megapixel rear camera with phase detection autofocus, dual LED flash, and 4K video capture, plus a 5-megapixel front-facing snapper that also has LED flash.
Battery
The Nexus 6P has a non-removable 3450 mAh battery while the Moto X Pure has a non-removable 3000 mAh battery.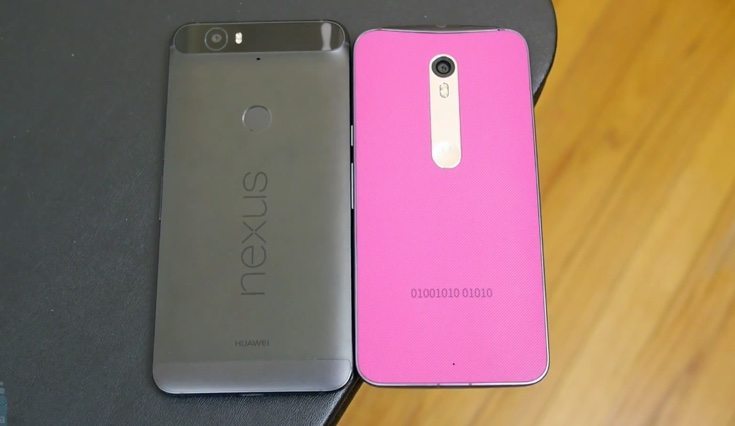 Operating System
As a new Nexus device the 6P released running Android 6.0 Marshmallow out of the box and will also be among the first to receive future updates. The Moto X Pure released running near stock Android 5.1.1 Lollipop, although we recently reported that the upgrade to 6.0 Lollipop was already in the soak testing stage so it should receive the update shortly.
Dimensions and Weight
The Nexus 6P measures 159.3mm x 77.8mm x 7.3mm and weighs 178g. The Moto X Pure measures 153.9mm x 76.2mm x 11.1mm and weighs 179g.
We cannot list every single feature of each of these phones here, although we will say that the Nexus 6P has a fingerprint sensor. On the other hand the Moto X Pure has a water-repellent coating. The above should give you an idea of how they compete against each other though, and we also recommend a video comparison for further insight.
For this we've positioned a video from Phone Arena below this article showing a Google Nexus 6P vs Moto X Pure comparison. This will give you a really good look at both handsets and what they have to offer. It begins by showing the designs and discussing the builds of the phones, mentioning for example the customizable designs offered with the Moto X Pure.
The video goes on to compare the displays, software experience, performance, camera capabilities (with sample images and video footage), call quality, battery life, and more. The conclusion mentions the prices and gives a neat summary of which one might be best depending on the factors most important to you.
When you've had time to consider the above specs as well as checking out the video, we'd really like to hear from you. In the battle of the Nexus 6P vs Moto X Pure, which are you now most likely to purchase and why?
Source: Phone Arena (YouTube)
https://www.youtube.com/watch?v=EYAvPozbZ44://