Xiaomi Kenzo in benchmark spot, speculated as the Redmi 3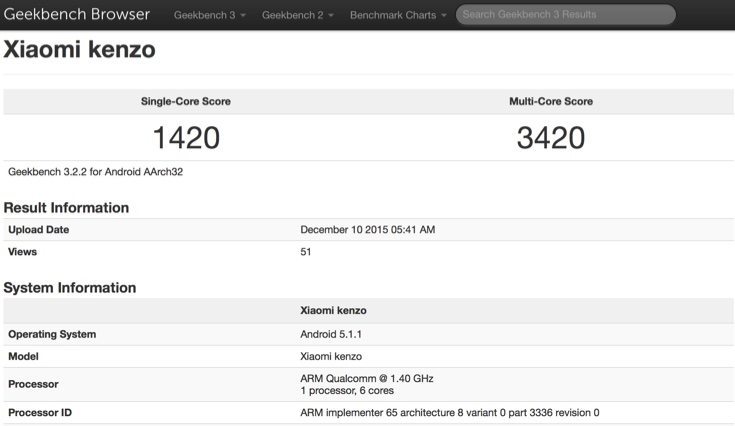 We've recently seen the Xiaomi Redmi Note 3 and Mi Pad 2 made official, so now it's time to start thinking of devices that might launch in early 2016. A device dubbed the Xiaomi Kenzo is the subject of a new benchmark spot, and there's speculation that this could be the upcoming Redmi 3.
The Xiaomi Redmi 2 arrived a few months ago so it's plausible that the new device in benchmarking is for its successor. This is especially the case given recent talk that Xiaomi might be planning a shorter development cycle for upcoming devices. The Geekbench filing that has emerged today is for a device with the Xiaomi Kenzo codename.
From the scores and limited specs that appear, it looks like a new mid-range smartphone so suggestions that it could be the Redmi 3 could be bang on the money. The Xiaomi Kenzo benchmark listing shows a Qualcomm SoC with MSM8952 motherboard that implies it could be the same Snapdragon 617 octa-core processor used in the HTC One A9.
Other aspects revealed from the benchmark sighting are 2GB of RAM, and it's running the Android 5.1.1 OS that would also be skinned with Xiaomi's own UI. The Xiaomi Kenzo managed a Geekbench single-core score of 1420 and multi-core score of 3420, but there's no information given on the display size or other specs.
As a reminder, the Redmi 2 launched with the Snapdragon 410 chipset and models with 1GB or 2GB of RAM. While the Xiaomi Kenzo could certainly be the Xiaomi Redmi 3, it's anyone's guess on this information alone. We'll be following further developments on the Kenzo with interest and will give you more news when we hear it.
As this device has now made a benchmark appearance there are likely to be further leaks very soon. In the meantime we'd welcome your thoughts. Do you think the Xiaomi Kenzo will indeed turn out to be the Xiaomi Redmi 3?
Source: Geekbench
Via: G for Games