Acer Jade Primo Android model in new benchmark specs spot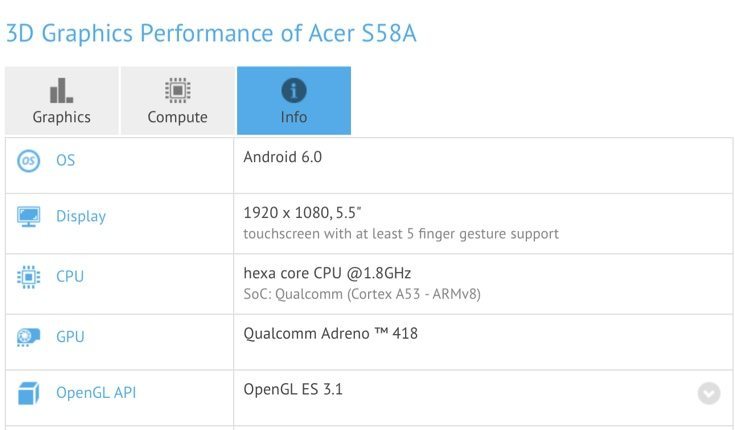 There's plenty of interest in smartphones running Windows 10 Mobile right now, and the Acer Jade Primo is one such example. Recently we reported that an Android version of the phone appeared to be in the pipeline following a benchmarking spot. Now we have news of the Acer Jade Primo Android model in a new benchmark specs spot.
Pre-orders have already opened for the Acer Jade Primo Windows 10 version that is set to release next month. However, the Android platform is much more widely used so Android fans might be pleased to know they will also be able to get a shot at the Jade Primo. Just a few days ago we told how an Acer handset dubbed the Acer S58A had appeared on Geekbench. This was believed to be the Android version of the Acer Jade Primo as the Windows 10 version has model number S58.
That benchmark appearance showed it to have a Snapdragon 808 chipset and 3GB of RAM, the same as for the Windows version. However, the phone was running the Android 6.0 Marshmallow operating system. Now details of the Android Jade Primo are firming up with the new benchmark sighting.
The Acer S58A (aka Acer Jade Primo Android version) appears on the GFXBench database. The filing tallies with the first benchmark as the phone has 3GB of RAM and is running Android 6.0, but fleshes out the specifications and gives new details. The specs revealed include a 1.8GHz Snapdragon 808 hexa-core processor, Adreno 418 graphics, and a 5.5-inch display with Full HD resolution of 1920 x 1080.
The S58A has 32GB of internal storage, and it's a single SIM handset with connectivity options including WiFi, Bluetooth, GPS, and NFC. It carries a 20-megapixel rear camera with 4K video capture, and an 8-megapixel front-facing shooter. The only key spec that we're left wondering about is the battery capacity, but it seems likely that it will have the same 2800 mAh battery size of the Windows 10 version of the Jade Primo.
We should stress that the company has not officially confirmed an Android Acer Jade Primo so we must treat the above information as unconfirmed. However, MWC 2016 is taking place in Barcelona in late February and this seems a likely time for the Android phone to be formally introduced. Of course we'll let you know more as we hear it, including further leaks. Do you like the idea of an Acer Jade Primo Android version?
Source: GFXBench
Via: Times News