Microsoft Lumia 650 price and pre-orders listed for UK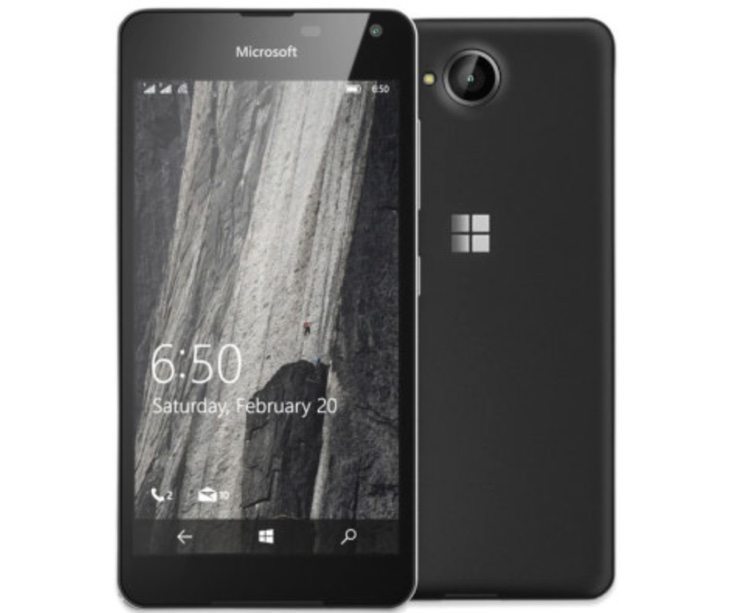 Despite the fact that it's not a high-end handset there's a good amount of interest in Microsoft's upcoming Lumia 650 Windows 10 phone. We've already covered leaks about this device on numerous occasions, and it's rumored to be set for a release next month. Now a Microsoft Lumia 650 price and pre-orders have been listed for the 4G LTE version in the UK before the official launch.
The new Lumia phone has appeared on MobileFun UK and the listing also seems to confirm and match the leaked specs of the device. The Microsoft Lumia 650 is listed with a 1.1GHz quad-core processor, and 5-inch IPS LCD display with resolution of 1280 x 720 resulting in 294 ppi. It has 1GB of RAM, 8GB of internal storage (expandable via microSD to 128GB), and a 2000 mAh battery.
Further Lumia 650 specs include an 8-megapixel rear camera, and connectivity options of WiFi, Bluetooth 4.1, GPS, and microUSB. It will release running the Windows 10 Mobile operating system, and although the front-facing camera isn't detailed it's thought to be a 5-megapixel unit. Rumors have suggested it will come in two variants, one with 4G LTE connectivity.
The product page for the LTE version on Mobile Fun UK shows a SIM-free unlocked Microsoft Lumia 650 price of £199, although we'll stress that this might not be finalized pricing. If accurate, this equates to around $285, €263, or Rs. 19,360, although pricing can vary by region. The phone can be pre-ordered now but an availability date has not been stated.
The online retailer listing also shows an image of the Lumia 650 that appears to tally with earlier leaked photos. The phone is only shown in a black color to pre-order, although we've seen leaked renders of it in white as well. While this looks to be an interesting development we should say that retailers sometimes put up a placeholder with expected details. However, as the device is available to pre-order from Mobile Fun (a reputable retailer), we would hope the above details are genuine.
Last week we reported that the O2 carrier in Germany expects to receive its first stocks of the phone sometime from late January to early February. This news followed earlier reports of an expected release in the first week of February, so we hope to hear official news on this soon.
Have you been waiting for a new Microsoft Lumia smartphone? If so, would you consider this upcoming phone, and what are your thoughts on the Microsoft Lumia 650 price?
Source: MobileFun