Samsung Galaxy A9 Pro specs show up from benchmarking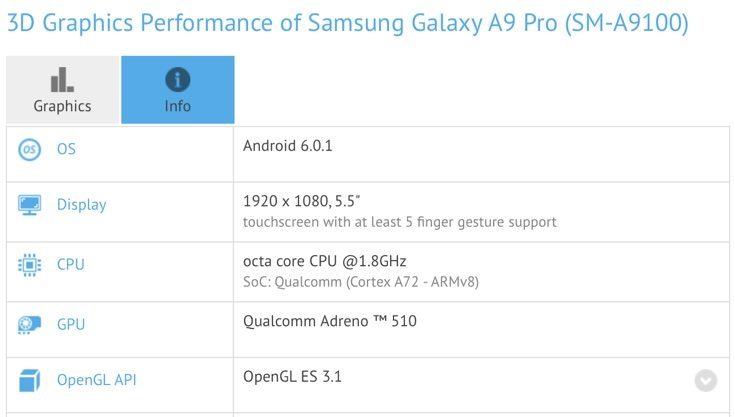 Over the last few weeks we've started to hear leaks about an upcoming Samsung Galaxy A9 Pro smartphone, an enhanced version of the Galaxy A9 (2016). Now there's further news on this with some Samsung Galaxy A9 Pro specs that have shown up from benchmarking.
We first heard about the Samsung Galaxy A9 Pro in late January. A leak revealed the device would have model number SM-A9100 but there was no news on specifications. Therefore we were left to speculate about how it would improve over the standard Galaxy A9 2016. Following this we saw a further sign that the Galaxy A9 Pro was on the way, when it appeared in an import/export listing heading for testing. This still didn't provide much in the way of specs, other than a display size of 6-inches, the same as the regular Galaxy A9.
Now the phone has been sighted again, this time in GFXBench benchmark testing. The filing gives us some specs details, but oddly differs in the screen size. Whereas we expect the Samsung Galaxy A9 Pro to have a 6-inch display as shown in the import listing, the display size in the benchmark documentation is listed as 5.5-inches with Full HD resolution of 1920 x 1080. While we remain skeptical about that, the other specs listed sound plausible.
Further Samsung Galaxy A9 Pro specs from the benchmark spot are a 1.8GHz Qualcomm octa-core processor (probably the Snapdragon 652 chip), Adreno 510 graphics, and 4GB of RAM. Other specs given are a 15-megapixel rear camera and 7-megapixel front-facing camera. However, GSMArena reports that rounding up the pixel count makes this more likely to be a 16-megapixel and 8-megapixel combo. The Samsung Galaxy A9 Pro (SM-A9100) was running the Android 6.0.1 Marshmallow OS according to the filing.
If we put the display size to one side and focus on the other Samsung Galaxy A9 Pro specs, there appear to be two main areas of improvement over the regular Galaxy A9 (2016). The Galaxy A9 Pro has 4GB of RAM rather than 3GB of RAM, and the rear camera looks to be bumped from 13-megapixels to 16-megapixels. One thing we're virtually certain of is that the increased leaks about this phone suggest an official launch very soon. We'll bring more on that directly as we hear it.
Are you a potential buyer of the Samsung Galaxy A9 Pro? What sort of price premium would you pay for it over the regular Galaxy A9 (2016)? Let us know with your comments.
Source: GFXBench
Via: GSMArena