Lenovo K4 Note on open sale in India from February 15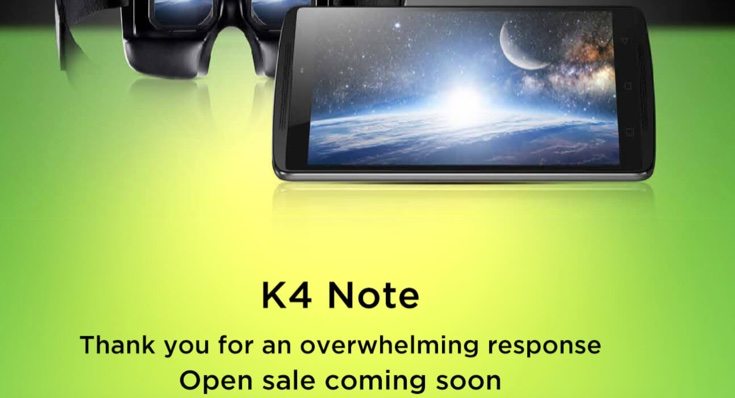 The Lenovo Vibe K4 Note launched in India last month and there has been high interest in this new smartphone. After initially only being sold through flash sales, we're pleased to say that the Lenovo K4 Note will be on open sale in India with no registrations necessary from February 15.
The Lenovo K4 Note is sold exclusively in India through Amazon.in and flash sales have already taken place for both the K4 Note and also a K4 Note VR Bundle. The flash sale system may be unpopular with some buyers, but that hasn't stopped a massive amount of people registering to purchase the phone so far according to this latest news from the company.
Lenovo has announced that over 1.1 million unique registrations were received for the K4 Note and ANTVR bundle, but that registrations are now over. Buyers will be able to purchase the Lenovo K4 Note without the need for registrations from February 15. The company also said that 1,80,000 units have already been sold.
The Lenovo K4 Note will still be available from Amazon.in with a price of Rs. 11,999. As well as the original Tuxedo Black color, the phone will also be sold from the above date in a White color choice. This smartphone has some nice features including dual front-facing speakers with Dolby Atmos, and a rear fingerprint sensor. Key specs include a 1.3GHz octa-core processor, 5.5-inch Full HD display, and 3GB of RAM. It has a 3300 mAh battery and runs Android 5.1 Lollipop with Vibe UI.
For a full specs rundown why not check out our recent K4 Note vs. Honor 5X comparison. You might also want to take a look at benchmark results and also battery life performance of the Lenovo K4 Note. Are you pleased to hear that the K4 Note will be available very soon with no registration required? We're always interested to hear from readers so do send us your comments.
Source: Fone Arena