Galaxy Note 6 CPU-Z screenshot discloses some specs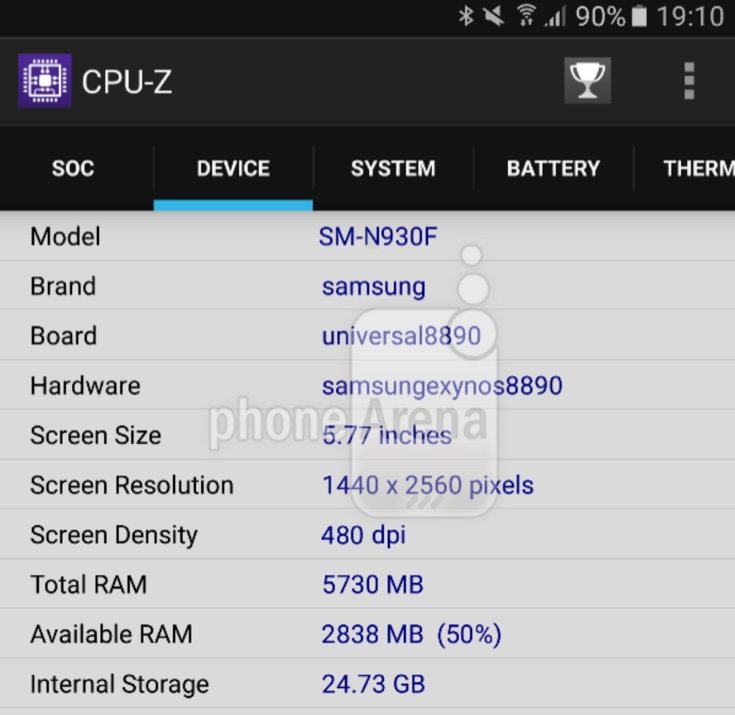 There have been growing rumors and leaks regarding the Samsung Galaxy Note 6 although we are still several months away from a release. Several leaks have already tipped some of the specifications for the device. Now a Galaxy Note 6 CPU-Z screenshot has also disclosed some specs.
It's always good to hear more on specs of upcoming smartphones, and the Galaxy Note 6 is on many people's radars ahead of an official launch later this year. It's reported that the screenshot is claimed to be from a Samsung employee who has run CPU-Z on the Note 6, and it shows device information. While we cannot verify the source, many of the specs that are revealed do tally with earlier leaks.
Firstly it shows the model number as SM-N930. This nicely ties in with the leaked model numbers list we shared recently, that also showed a European variant this time around. Specifications as shown in the screenshot include a Samsung Exynos 8890 processor and a 5.77-inch display with Quad HD resolution of 2560 x 1440. It has 6GB of RAM and 32GB of internal storage.
It's worth noting that a previous leak suggested a Snapdragon 823 processor. That's still a possibility as Samsung has previously produced different processor variants of flagship devices. Although the phablet is running Android 6.0 Marshmallow for now, the source also says that Samsung and Google are currently in talks to determine whether it could be running Android N. That will all come down to the planned timeframes for the launch of the Note 6 and availability of Android N.
The same report cites sources as saying that the design of the Galaxy Note 6 will be along the lines of the Galaxy S7 and Galaxy Note 5, with the phone a little thicker than the Note 5. The phablet is also thought to include dust and water-resistance to IP68 certification standards, and a 3700 mAh battery to keep the juice flowing.
Are you already eagerly anticipating the arrival of the Samsung Galaxy Note 6? What are your thoughts on the unconfirmed specs so far? Let us know with your comments.
Via: Phone Arena