Samsung Galaxy S7 Edge vs LG G5 speeds, the winner is …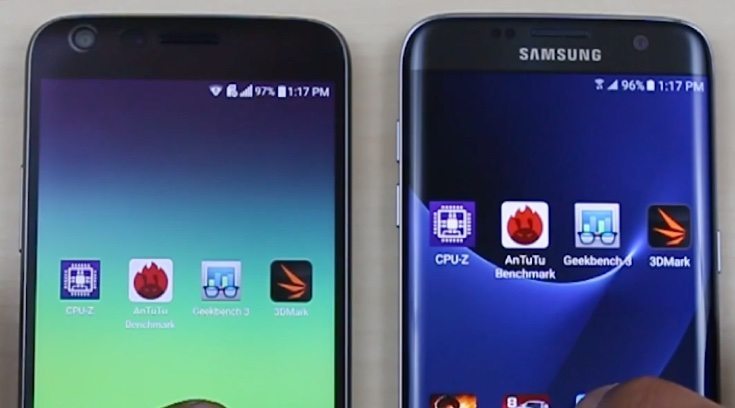 There have been some big-name flagship releases recently with two of these being Samsung's Galaxy S7 Edge and another being the LG G5. Both of these have top-flight specs and will be dominant forces in the Android smartphone market this year. Today we're looking at Samsung Galaxy S7 Edge vs LG G5 speed testing results, and the winner is …
As high-end smartphones both of these should be good performers, so it will be interesting to specifically compare speeds. The Samsung Galaxy S7 Edge packs either a Snapdragon 820 quad-core processor with Adreno 530 graphics, or an Exynos 8890 octa-core processor with Mali-T880 MP12 graphics (regions vary). It has 4GB of RAM and runs Android 6.0.1 Marshmallow with Samsung's TouchWiz UI.
The LG G5 is also powered by a Snapdragon 820 processor and Adreno 530 GPU with 4GB of RAM, and it runs Android Marshmallow with LG'S UX 5.0 UI. You can see much more on specs and features in our Galaxy S7 Edge and LG G5 launch posts at the links. Below this article we've embedded a Samsung Galaxy S7 Edge vs LG G5 comparison video that concentrates solely on the speeds of the two devices. Please note that the S7 Edge used in this testing is using the Exynos 8890 processor.
The video shows various types of speed tests being conducted on both phones. The temperatures of the two devices are checked both before and during the testing for thermo throttling. Speeds are compared for a variety of different aspects including opening apps, Internet browsing, benchmarking, and multitasking. There's also a bootup speed test so you can see which is ready for action first when they are powered up.
Along the way the winner of each test is shown on a counter for each device. We're not going to spoil the fun by telling you the ultimate victor in this Samsung Galaxy S7 vs LG G5 speed testing, but we will say that it's pretty close. Why not try to predict the winner before you watch the test video below. When you've taken a look we'd like to know what you think of the results of this speed testing?
Source: L BS (YouTube)
https://www.youtube.com/watch?v=ZtFFUXQxvPs://