Huawei P9 vs Xiaomi Mi 5 in speed performance comparison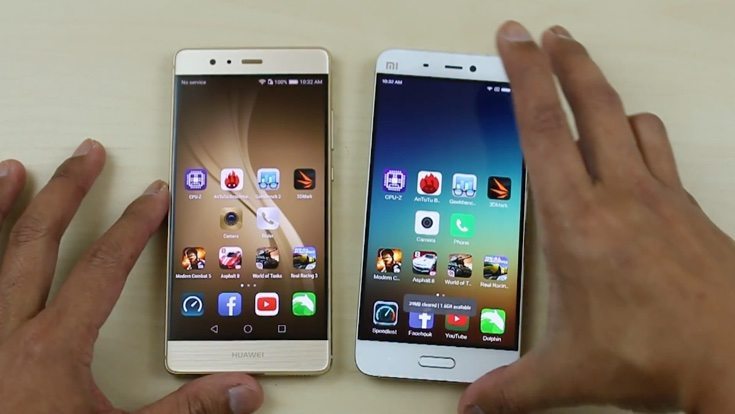 Two of the most recent high-end smartphones to release are the Huawei P9 and the Xiaomi Mi 5. It's always good to compare particular aspects of new smartphones, and today we're considering the speeds of these two devices up against each other. Coming right up we have the Huawei P9 vs Xiaomi Mi 5 in a speed performance comparison.
Before we get to the speed testing we'll begin with some of the key specs as far as performance is concerned. The Huawei P9 is equipped with a HiSilicon Kirin 955 octa-core processor with Mali-T880 MP4 graphics. It comes in variants of 3GB of RAM or 4GB of RAM. On the other side of the coin the Xiaomi Mi 5 packs a Snapdragon 820 quad-core processor and Adreno 530 graphics. It comes with 3GB of RAM and there's also a Pro edition that has 4GB of RAM.
Below this article we've embedded a Huawei P9 vs Xiaomi Mi 5 speed testing video. For reference please note that the unit of the P9 in this testing has 4GB of RAM while the Mi 5 is the regular 3GB RAM version. In the comparison the two handsets are shown alongside each other and the reviewer notes that both are set to performance mode with animations turned on.
You'll then see the phones put through a gamut of speed tests. These include opening apps, Internet browsing, multitasking, benchmark tests, bootup speeds, and more. The handsets are also tested for thermo throttling. Along the way you'll see a counter racking up the wins for each device, although some of the results are very close. At the end you'll find out which of these smartphones is the overall winner (no we're not going to spoil the outcome here) as far as speeds are concerned.
Let us know what you think of the outcome of this Huawei P9 vs Xiaomi Mi 5 speed testing comparison? Are you surprised or not by the ultimate victor?
Source: L BS (YouTube)
https://www.youtube.com/watch?v=iOXCjNoepB8://