YU Yunicorn fantasy to reality flagship launch on May 19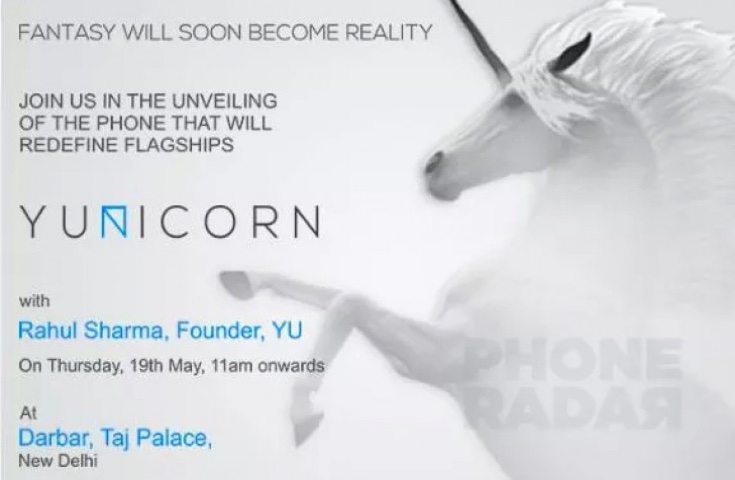 YU has been teasing an upcoming smartphone just recently and now we know what it will be called. The YU Yunicorn fantasy to reality flagship will launch on May 19th at an event in New Delhi, and YU is using plenty of rhetoric to hype up the device before its official arrival.
The soon-to-launch YU Yunicorn comes hot on the heels of the YU Yureka Note that recently released. YU Televentures has now issued invites for the event later this month. As well as the name of the phone, the text on the invites teases us with "Fantasy will soon become reality. Join us in the unveiling of the phone that will redefine flagships." If that doesn't get your mouth watering, nothing will!
It's thought that the YU Yunicorn will be running stock Android and is likely to be priced under Rs. 15,000, although that is not confirmed yet. Sadly details on specifications, features, and design are sparse at the moment, although we imagine we might hear a little more in further teasers before the event. YU CEO Rahul Sharma previously said that the upcoming flagship "will break records, it will break the conventional, it will break the rules…wait, it will break the flagships."
It could be the case that the YU Yunicorn turns out to be the YU5530 that turned up in in a benchmark filing last month. This revealed some specs such as a 1.8GHz Helio P10 octa-core processor and 4GB of RAM, but at this stage it's unclear whether the two devices are one and the same. Thankfully it's not too much longer until Thursday May 19th when the event will begin at 11pm.
With YU ramping up the hype for this new smartphone it will be really interesting to see what is finally unveiled. Are you eager for the launch of the YU Yunicorn?
Source: Phone Radar