Xiaomi Mi 5 Receives Permanent Price Drop in India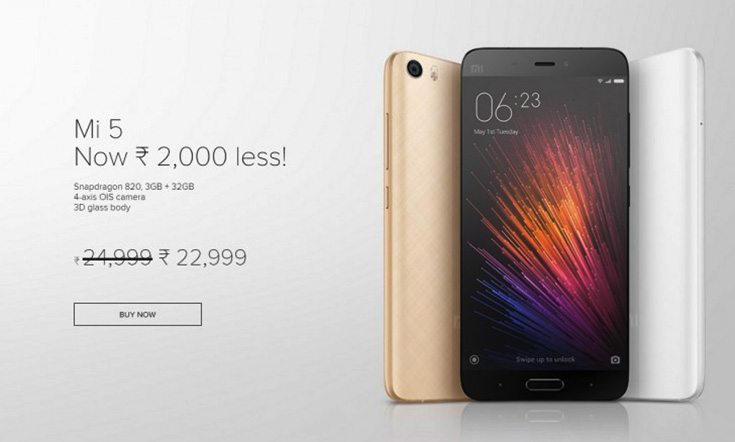 Xiaomi's Mi 5 flagship is one of their most highly rated phones. It was unveiled at MWC 2016 this year with features that only phones double its price offered. That made it a really enticing choice for a lot of people and it has been flying off shelves without any trouble. Now there's one more reason for it to sell faster. Like with all the Xiaomi smartphones, the Xiaomi Mi 5 has just received its first permanent price drop in India.
Previously priced at Rs.24,999 ($372), the Xiaomi Mi 5 was one of the most affordable smartphones to feature the Snapdragon 820. The phone also has an exceptional camera with 4-axis OIS, which only a handful of smartphones offer. The Mi 5 also features a unique curved design on the rear side and has a 3D glass body.
All this seems too good to be true even for Rs.24,999, but now the phone is available for Rs.22,999 ($342). This is in line with Xiaomi's practice of offering permanent price drops to their smartphones. But there might be a little more than just a permanent price drop that Xiaomi has in mind.
The phones with the Snapdragon 820 are all over Rs.30,000 except the OnePlus 3, LeEco Le Max 2 and the Xiaomi Mi 5. Out of this the OnePlus 3 is in a league of its own and offers a bit more superior performance with its 6GB of LPDDR4 RAM.
That leaves behind the Xiaomi Mi 5 and the Le Max 2. The Le Max 2 also offers slightly superior specifications for Rs.22,999 and this move from Xiaomi has to be seen as a way to curb its competitor's sales. If the Lenovo ZUK Z2 makes its way to India, it might become a serious threat to Xiaomi and we may see more price drops in the future. But for now, the Xiaomi Mi 5 is one of the strongest smartphones priced at just Rs.22,999 ($342).
via – GSMArena