32GB Nexus 7 release price listing confusion
Consumers that are thinking of purchasing a new tablet PC in the coming weeks may have even more hardware to choose from, as Apple are rumoured to be about to release a smaller iPad, and the Nexus 7 seems almost certain to come in a larger storage option at any time. Then you have the choice of affordable slates from Amazon to pick from, but there is some confusion over the 32GB Nexus 7 release price listing.
There have been a number of different reports in the last few days that are pointing to an upcoming release of a 32GB version of the popular Nexus 7. We recently heard claims that the new model was going to replace the 16GB version of the device, as it was believed the 32GB option will come in at the same price.
Others suggested that this would mean the 16GB model seeing a nice price cut, and would come as the competition from Amazon and possibly Apple would get stronger in this area of the tablet PC market. Now as Pocket Now are reporting online retailer PhoneHouse from Spain has put up a registration page for the 32GB Nexus 7, and has it listed for €279.
This is €30 more than the 16GB version that can currently be purchased for in the country, and compares to the earlier leak from UK retailer Carphone Warehouse that had it listed for £199, which is the same price as the 16GB model.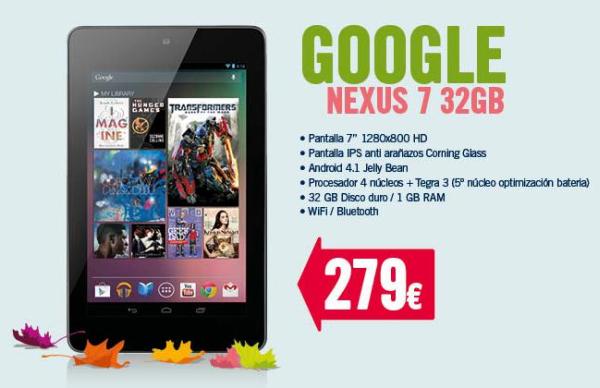 There is a chance that the Spanish retailer is looking to make some extra cash when selling the device, but given the current competition you would have thought Google will sell the new model for the same price as the 16GB version now sells for.
It has to be remembered though that the device would have double the amount of memory that is currently available with the Nexus 7, and only asking €30 more isn't a big amount considering the extra storage. Until we hear something official from Google we will have to rely on more leaks and retailers putting up registration pages.
Will you be getting the 32GB Nexus 7?