iPad Mini price options from 8GB to 64GB
History tells us that in recent years we are treated to numerous leaks and speculation leading up to any new tech product from iPhone maker Apple. This has certainly been the case for the company's flagship smartphone, and more recently the iPad. In the last few weeks we have heard talk of a smaller model being released, and a new leak provides iPad Mini price options from 8GB to 64GB.
Over the last week we have heard that a special event for the unveiling of the iPad mini is rumoured to upstage the launch for the Microsoft Surface, and take place on October 23rd. Accessory manufacturers are also claiming to have products ready for shipping as soon as the device is released, and yesterday we saw images that were allegedly of the units battery.
Now a new leak from a European electronics retailer, Media Markt, is supposedly revealing the pricing for the iPad mini. As Venture Beat are reporting the leak from the retailers inventory system is showing sixteen different variations of the iPad mini.
Pricing will start at around $250 for the 8GB Wi-Fi only base model, and going all the way up to a 64GB with a cellular option. This could mean the device having 4G LTE connectivity along with 3G, and if true goes against earlier reports that suggested the iPad mini would be Wi-Fi only.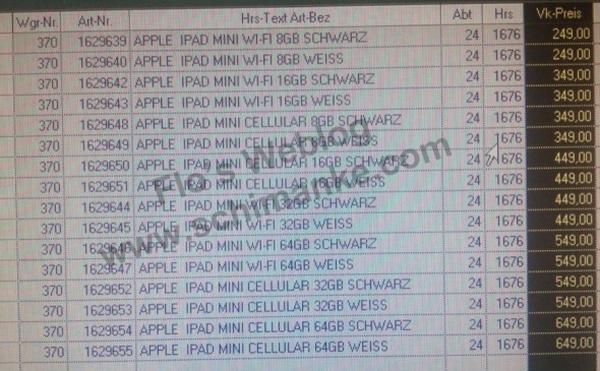 This price compares to the iPad 2 that begins at $399 for the 16GB model, and the iPod Touch that starts at $299 for the 32GB version, or the new iPad that is priced at $499 for the base model. If this pricing is accurate the base model is listed as €250 and goes up in €100 stages for every storage bump.
It is a further €100 for the addition of a cellular option with the top of the range 64GB model priced at €649. The various options listed also include different colour options, but it has to be remembered that this is pricing for Europe with Apple having a different pricing policy for the region compared to the US.
European companies also have varying sales taxes, which is 19% in Germany where the leak is coming from, but if this price of around $250 is correct for the base model it may be a low enough price for those thinking of purchasing the Nexus 7 or Amazon Kindle Fire HD.
If accurate is the iPad mini priced low enough for you to consider?