Samsung Galaxy S3 vs Galaxy S4, a question of timing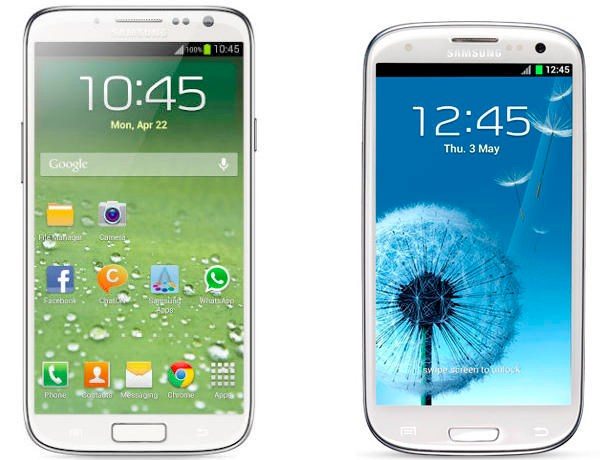 The initial Samsung Galaxy S3 model was released way back at the end of May 2012 with other variants to follow over several months. It has been another major success in the Samsung Galaxy S line and is still selling in big numbers but if you were thinking of purchasing one now you may want to hold back for the Samsung Galaxy S4. This is thought to be due for a release in the coming months so we thought we'd look at the Galaxy S3 vs. Galaxy S4 and the question of timing.
We'll give you a refresher on the key specs and features of the Galaxy S3 (S III) and then tell you what we've heard so far about the Galaxy S4 to see how much extra it is likely to offer. As the Galaxy S4 (S IV) has not yet been officially announced anything we can tell you about this handset is unconfirmed. However we've written many posts now about leaked and rumored specs for the S4 and as is often the case in these pre-release rumors, many turn out to be accurate with only the occasional wild one that comes to nothing. At least it should give you an idea of what to expect when the next flagship Samsung smartphone finally appears.
The Galaxy S3 has only been out for around 8 months then but although that sounds very recent it's quite a time in the world of smartphones and many consumers who were just getting round to the idea of buying the S3 may not realize how close we are to the Galaxy S4. The S4 on the other hand is heading for a spring release and we've heard rumors of a Samsung Unpacked Event to be held on March 22 with a release around April 15 although this is unsubstantiated so far. We also saw a leaked image of the Galaxy S4 showing a date of April 22 just to confuse issues further but whether this is a clue to the date of an announcement, date of release or in fact neither, remains to be seen.
Key specs and features of the Galaxy S3 include a 1.4GHz Exynos quad-core processor although US variants of the phone carry a 1.5GHz Qualcomm S4 dual-core processor. It also has a 4.8-inch Super AMOLED display with resolution of 1280 x 720 and 306 ppi, 1GB of RAM (2GB for US models) and options of 16, 32 of 64GB of internal storage, expandable via microSD. There's also an 8-megapixel rear camera with LED flash, autofocus and 1080p video capture as well as a 1.9-megapixel front-facing camera. Battery capacity is 2100 mAh and the Galaxy S3 released on Android 4.0.4 Ice Cream Sandwich, although this is upgradable to Android 4.1.2 Jelly Bean now. It also features the Samsung Touchwiz user interface.
So let's take a look at what we know, or think we know, about the Galaxy S4 so far. One of the most obvious inclusions is the new Exynos processor that Samsung just showed off at CES 2013 and leaked benchmark results recently appeared to show the Samsung Galaxy S4 using the 1.8GHz Exynos 5 Octa CPU. This processor would be a real step up for the next Galaxy S4 providing a better performance while using less power. It uses two sets of quad-core processors but is not 'true' octa-core as only one set is used at any one time. Other likely specs for the Galaxy S4 are a 4.99-inch Super AMOLED full HD display with an incredible ppi of 440, so an increase in both the size and the quality of the display and there should also be 2GB of RAM. We've not heard much about internal storage so can only imagine it will probably have the same as the Galaxy S3.
Other widely reported expectations are that the Galaxy S4 will have a 13-megapixel rear camera, 2-megapixel front-facing camera and a 2600 mAh battery. We had initially anticipated it might release running Android 5.0 Key Lime Pie but it looks as though the handset might release now before the next major Android update arrives. Now it seems more likely that it will launch on Android Jelly Bean 4.2.1. More fanciful additions that have been rumored are wireless charging, a flexible display, use of a stylus (as used with the Galaxy Note) and black or white color options.
As you can see, at this stage it looks as though the Galaxy S4 will have some major upgrades from the S3 such as the full HD display, step up in processor, 13-megapixel rear camera from the current 8-megapixels, increased RAM, larger battery capacity and more. The above photo shows a purported image of the Galaxy S4 against the current Galaxy S3. This Galaxy S4 image cannot be verified though but if this is the real deal the S4 has slimmer bezels, squarer edges and a larger home button but otherwise resembles the Galaxy S3.
If you already have the Galaxy S3 only you can decide if these additions will make it worth your while to upgrade to the Galaxy S4. If you were considering purchasing the Galaxy S3 though, then it seems to us that it would be a good idea to wait a little longer to see exactly what the Galaxy S4 will offer when it is announced. Remember specs for the S4 that we have given here are so far unofficial. Ultimately the Galaxy S3 vs. Galaxy S4 really does seem to be a question of timing but if you've waited this long before deciding to purchase the Galaxy S3 it would seem wise to wait a little longer for the Galaxy S4 in our opinion.
We'd like to hear your thoughts on this. Were you just about to purchase the Galaxy S3 but didn't realize the Galaxy S4 may not be too far away? Maybe you're going to stick with the S3 as there's no guarantee on when the Galaxy S4 will show up? Perhaps you feel the potential of the Galaxy S4 is too good to consider buying the S3 now? Let us know with your comments.