Nokia Lumia 1000 imagining with notable camera set-up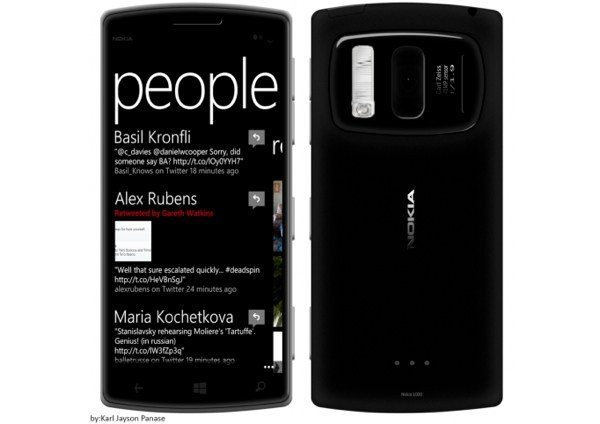 Way back in February we heard of a device that had been seen on a China Mobile database and it was called the Nokia Lumia 1000. We mentioned that it was possibly an international version of the Nokia EOS that has also been rumored but nothing is very clear on that. Today, while we're waiting for firmer news on the phone we thought we'd show you a Lumia 1000 imagining and would like to know if you'd like the real device to look like this.
We already showed you a concept design for the Nokia Lumia 1000 in February and earlier today heard some leaked news about the Nokia EOS design but this may be entirely unrelated to the Lumia 1000, we just don't know at this stage. It can be interesting to see concept visions of various upcoming products to give us some ideas of how they could look and what they could offer specs-wise and this latest Lumia 1000 concept comes from designer Karl Panase.
You can see his imagined Lumia 1000 below and neatly he's also given specs to go with it. The phone runs Windows Phone 8 GDR 3, is powered by a 1.9GHz Qualcomm Snapdragon 800 processor with Adreno 330 graphics and has a 4.8-inch Super AMOLED display with full HD resolution that also utilizes PureMotion HD+ ClearBlack display technology.
Further specs of this concept Lumia 1000 include 2GB of RAM, 64GB of internal storage (expandable via microSD). There's also a 2500 mAh non-removable battery. The handset is 8.7mm at its thinnest point and weights in at 165g. As you can see from the image below it's in sleek black and looks to have a pretty premium build.
The camera set-up includes a 41-megapixel rear camera with F/1.9 aperture, Xenon flash, LED flash, Carl Zeiss optics, autofocus, built-in optical image stabilization and it also has 4k video recording. Image processing is enabled by a Nokia imaging chipset and other features to enhance your camera experience include up to 8x lossless digital zoom, ND filter and variable aperture control.
While we wait to hear more on the real Nokia Lumia 1000 we'd really welcome your comments on this concept version. If the real Nokia version turned up with this design would it appeal to you?
Source: Concept Phones