Samsung Galaxy Note 3 SD, removable battery desire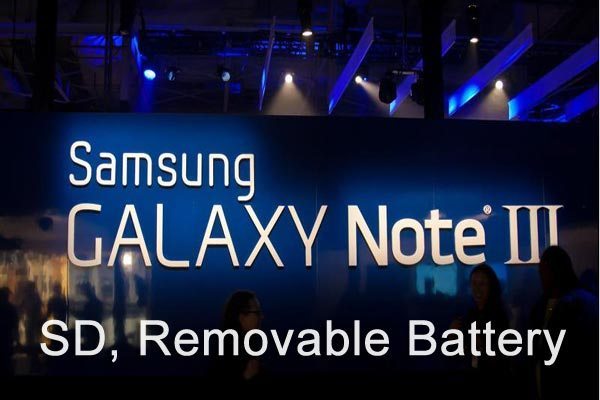 This week we heard a few Samsung Galaxy Note 3 rumors that focused on the handset being found in Samsung's system, although the phablet has yet to receive a confirmed release date or any official specs. The latest Galaxy Note 3 news claimed that the handset was found on Samsung's Global Download Center under the name SM-N900J, but at the time of writing this reference is nowhere to be found, so these rumors were either false or Samsung removed the listing considering it's been a few days.
In June, we have reported a few details about the Samsung Galaxy Note 3 that have included the remote possibility of the new phablet arriving next week at an event in London, the favored choice of a Snapdragon 800 CPU and also a leaked image that some fans hoped is the Galaxy Note 3.

Most wanted Samsung Galaxy Note 3 features — there's a long list of specs that Android users want to see launch with their favorite phablet, but top of most lists we have seen seems to be a removable battery and SD card. No matter the news or rumor, our readers keep coming back to these two features being a must on the Samsung's upcoming Galaxy Note 3 that's expected to launch around September. Please note the image above is just for reference.
We have seen countless comments in this regard with one example being, "Having a removable battery and SD card would be a deal breaker for me" and another Phones Review reader stated, "SD and removable battery a must on Note 3". Others explain the Galaxy Note 3 might depend on "the demographic they target". While we expect one of these features to be almost certain, we imagine most people will want both to be included.
Do you class an SD and removable battery as the two most wanted Samsung Galaxy Note 3 features for you? If not, share a comment with the features that you class as a deal breaker when it comes to the new Galaxy Note 3. We have seen a few people have battery life problems with the Note 2, and launching a Galaxy Note 3 without a removable battery could cause some hardware repairs to become more complicated.