iPhone 5 vs iPhone 4 on iOS 7 Beta 3 in speed test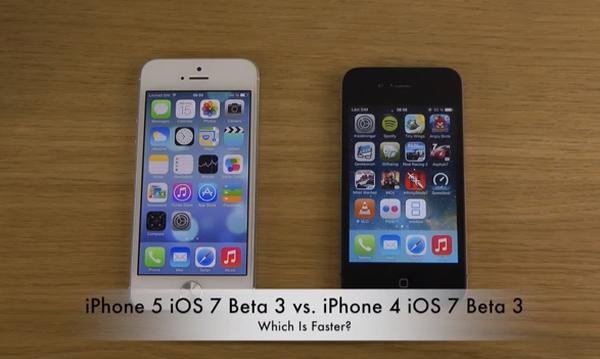 We have been bringing you a number of different videos and reports about the latest iOS 7 beta since it was released, and as each new beta gets pushed out the company is improving the software while adding new features. Today we have a speed test video featuring the iPhone 5 vs. iPhone running on iOS 7 Beta 3.
The release of the fourth beta for iOS 7 should have happened by now but doubts were raised about its availability after it emerged that Apple's systems had been hacked. So in the meantime we have another speed test comparison for you for the current beta 3 running on the iPhone 5 and iPhone 4.
We have already had some speed tests featuring these two handsets but today's one is more focusing on seeing which handset is faster in booting up. Despite its age now the iPhone 4 is still a good handset and this new software should also give the device a new lease of life.
Both handsets are switched off which takes around the same length of time for both of them, and when rebooting the two devices the Apple logo appears at about the same time on both the handsets.
The iPhone 5 obviously comes back to life quicker than the older device but it has to be remembered the iPhone 4 has been around for a while now, and this software that it is running is an unfinished beta that may not have yet been fully optimized for the handset.
While this is only a quick speed comparison between the two devices you can find out more by visiting the link above where you find a couple more videos.
Does the performance of the iPhone 4 impress you given its age?