iOS 7 beta 6 could fix iPhone 5, 4S app crashing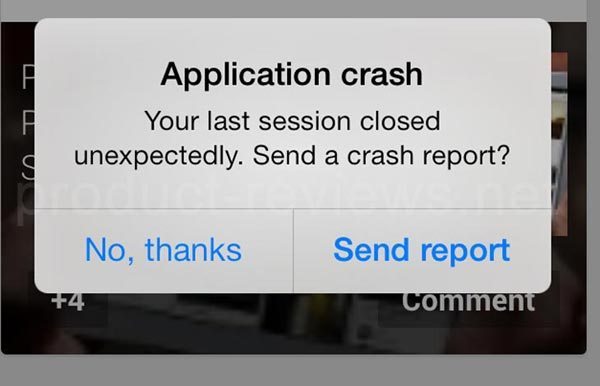 Before iOS 7 beta 5 released earlier this week we thought that the majority of apps crashing on iPhone 5, 4S and 4 would need the developers to update their app for problems to stop. This has proven incorrect in some cases and the latest software update for developers did in fact improve certain app performance, and even removed issues completely on some apps with more fixes expected in iOS 7 beta 6.
The screenshot you see below this article was taken on an iPhone 5 running iOS 7 beta 5, and the application crash was experienced while using the Google Plus app. It is worth noting this app crashed on the second opening in all previous betas, although you can now use Google Plus for a lot longer on iOS 7 beta 5 thanks to some kind of improvement with the latest software.
This fix alone showed our in-house developer that some problems will not be for developers to fix, and Apple themselves will be offering more support for apps that worked just fine in iOS 6.
Our previous article looked at iOS 7 beta 4 and how it fixed some iPhone 4S and iPhone 5 crashing, which was due to the mobile software rebooting to a black screen with an Apple logo. This issue was due to Apple's software and not apps, but at the time we did also note a few reports of Skype and Instagram crashing and needing a fix via their developers or a future iOS 7 update. Some users also report Wi-Fi problems as well and this leads to only being able to use cellular rather than a wireless network for web browsing.
If we do see another update in the form of iOS 7 beta 6, then what apps would you like to see working that currently crash on iPhone 5 or 4S? We should also note that some of these bugs will need a fix at the app developer level, so in some cases this might mean iOS 7 hits a public release with many apps crashing thanks to a few developers being slow to fix issues.
The good news is that iOS 7 beta 6 and even the Gold Master could fix some app crashing problems without the 3rd party developers lifting a finger, but we guess only time will tell what number of your favorite apps run into problems when you install iOS 7 next month.
When it comes to a possible iOS 7 beta 6 release time it seems that the date is not so clear after Apple launched beta 5 on a Tuesday, rather than Monday.