Nexus 5 viewed with unlikely specs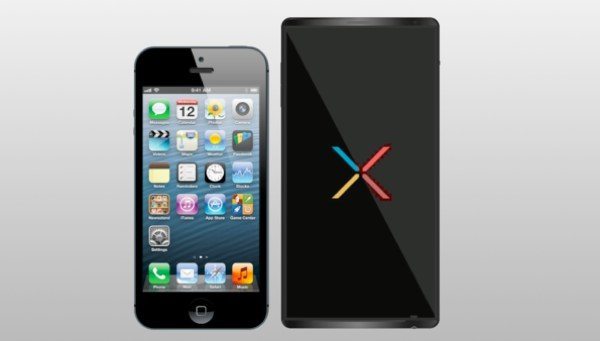 Many Android device enthusiasts are avidly waiting for the Google Nexus 5 smartphone to be announced. This device is likely to be revealed within the next month or so, and there has been wild speculation about specs and features. One thing we do know is that it won't have the specs of this view of the Nexus 5 that we're sharing with you today, as some are unlikely to say the least.
We occasionally like to show concept designs of upcoming products, and we've already seen plenty of other takes on the upcoming Nexus 5. Although these concepts won't come to fruition, they do offer us an intriguing look at just what a device could look like. The concept we are showing you today has a sizeable display, made clearer because the image shows this envisioning lined up next to an iPhone 5.
The design of this Nexus 5 imagining features a unibody aluminum shell to give it a premium look and feel. The designer also included some specs with this concept design, including some that are implausible, although most are not quite as crazy as some we've seen provided for previous renders of the Nexus 5.
This Google Nexus 5 comes from a DeviantArt member and is powered by a Qualcomm Snapdragon 800 quad-core processor, and has an IPS display with superior resolution. It also has 4GB of RAM, 16 or 32GB of internal storage, a 13-megapixel rear camera, Corning Gorilla Glass for the front, and a 3000 mAh battery.
Moving back to the real Nexus 5 there is still speculation over who is manufacturing the device and we've heard all sorts of names thrown into the ring. All the signs at the moment suggest it's either LG or Motorola but nothing has yet been confirmed. The same applies to specs, but the most recent leaks suggest a Qualcomm Snapdragon 600 quad-core processor, 5.2-inch display, 10-megapixel rear camera, and of course Android 5.0 Key Lime Pie.
We have an idea that we could see plenty more Nexus 5 concept design before the genuine article is finally released, but in the meantime we'd like your thoughts on this design idea. Would you like the real Nexus 5 to look similar to this? Tell us what specs you anticipate for the Google Nexus 5 when it is unveiled, by sending your comments.
Source: DeviantArt Via: Tekrieg