BBM Android release tantalized by Samsung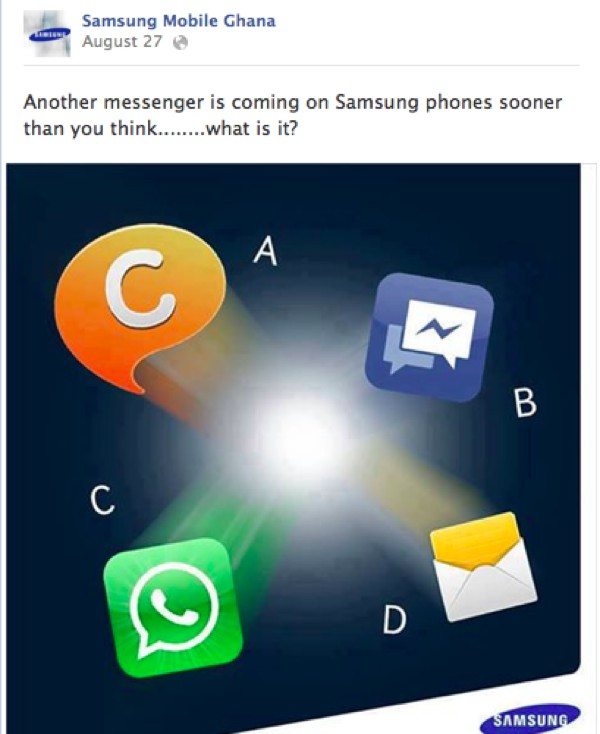 The BBM app launch for Android and iOS devices has been stirring up a lot of anticipation. We know the BlackBerry Messenger service is going cross-platform this summer, but a precise date has still not been supplied. However, Samsung is now tantalizing the BBM Android release, so hopefully it won't be too much longer until the app is available on Google Play.
We know from our previous articles on BBM that many readers are really keen to be able to enjoy the messaging service on their iOS or Android devices. Recently we told of a Samsung press release that pledged BBM for Android would be available on launch to Galaxy customers across Africa soon and integrated into Samsung Apps. We also told how this led to misleading reports that the app was already available for Android users in Africa, although this was not the case and was not what Samsung had stated.
User guides for iOS and Android BBM were also recently spotted, indicating we were nearer to the launch of the apps. The latest news offers further promise of a launch soon, at least for Android, as Samsung has now added to its promotion of BBM for Galaxy devices with teaser ads on its Ghana Facebook page and also on YouTube, as reported by CrackBerry. The ads reinforce the fact that a key feature of Samsung Galaxy phones will be pre-loaded BBM.
The videos have since been removed by Samsung Ghana, but a tantalizer remains on Facebook, with an image that prompts readers to try and guess which messaging service will be available on Galaxy Phones soon. In fact Samsung also says that this messaging app will be available "sooner than you think," which sounds highly promising.
Africa is a key market for BBM and so it's no surprise that Samsung is heavily promoting the Android app there, but of course this news is encouraging for all of those who are waiting for the BBM Android app. Whatever region you are in, it now looks very likely that BBM for the Android platform is truly on its way.
BBM is really one of BlackBerry's few remaining strengths and recently it was reported that BlackBerry is considering separating BBM into a subsidiary. The launch of BBM cross-platform is certain a step in the right direction, although it should have come much sooner. We're really interested to hear what readers think about the BBM Android and iOS apps and the seemingly long wait for them.
Are you waiting with anticipation for the release of BBM for iPhone and Android devices? Do the Samsung teasers in Ghana give you further hope that the release of BBM for Android is now imminent? Maybe you're frustrated at the continuing wait? Let us know by sending your comments.