Samsung Galaxy Gear promo shows smart watch design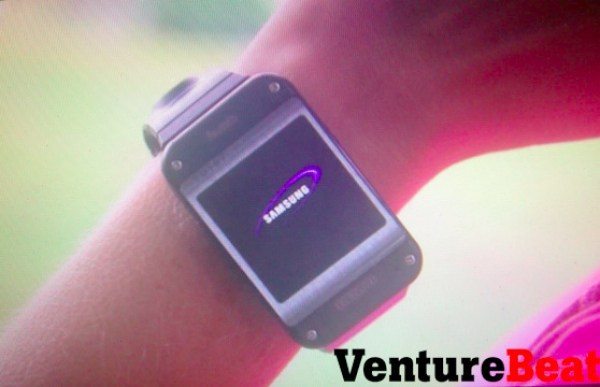 IFA Berlin takes place this week, and one of the devices that will be launched there is the Samsung Galaxy Gear smart watch. Although a lot of attention will be on the Samsung Galaxy Note 3 smartphone reveal at Wednesday's event, plenty of people are also interested in the debut of the Samsung smartwatch too. Now a Samsung Galaxy Gear promo has shown the smart watch design ahead of the launch.
We've been following developments on the Samsung Galaxy Gear and have already discussed unconfirmed specs and possible shipping dates. Now the unveiling is only days away and speculation and leaks are rife about this upcoming device.
Luckily a prototype version of the Samsung Galaxy Gear has appeared, giving some further details. VentureBeat managed to take a look at the prototype although were not able to take photos of the model provided. However, they did manage to take a shot from the promo video of the Galaxy Gear so we get to see what it looks like.
As you can see in this image the display of this prototype Galaxy Gear is square. We're informed it is a 3-inch OLED display but have no details on the resolution yet. The model pictured here is in dark gray and black but other colors are likely to be on offer too. It has a 4-megapixel camera on the top and the strap has build-in speakers.
One of the features of the Galaxy Gear is that it will use software that can recognize food properties and so record a users health data. The S Voice app will also recognize voice commands, and the smartwatch can connect to smartphones via Bluetooth and Wi-Fi, thereby giving the ability to sync call logs.
Users will also have access to Twitter and Facebook social media integration via Wi-Fi connectivity. The battery is said to offer around 10 hours of use, but frankly this doesn't seem anywhere near long enough to us. It would be interesting to hear what readers think about this?
The Samsung Unpacked Event takes place on Wednesday September 4, and we'll be bringing you all the news. Hopefully we'll soon be able to give you confirmed specs, release availability and the price of the Samsung Galaxy Gear. You may also be interested in a recent concept we showed for the Galaxy Gear, although unsurprisingly, it bears no resemblance to this prototype.
Are you waiting to hear more about the Samsung Galaxy Gear smartwatch? Do you think this type of wearable technology will become more popular as people get used to the idea? Let us know with your comments.
Source: VentureBeat