Apple banner prompts iOS 7 vs iPhone colors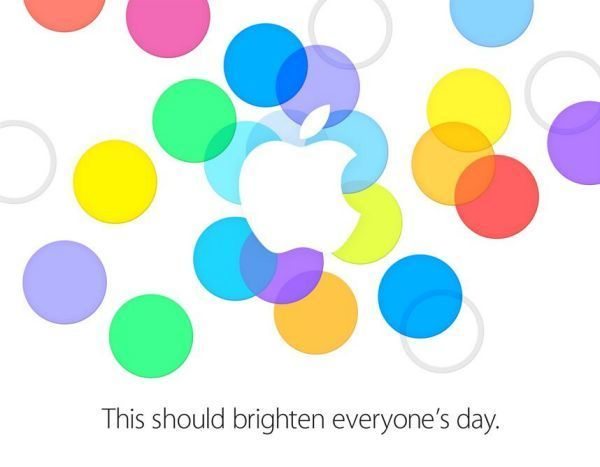 The Apple keynote event banner is now splashed all over the Town Hall auditorium in Cupertino, California and it is very interesting indeed when you look at the colourful spotted design.
At 10am Pacific Time (6PM GMT, 1PM Eastern) the Apple keynote will kick off revealing sales, app download records and new products and hopefully you are as excited as we are of the hopeful announcements.
When you look at the Apple banner you will notice many colourful spots on it, and this prompts us towards the iOS 7 vs iPhone colors — what are the colored spots all about?
The answer to the question above could contain many answers, one being the colors are directed at the newly built iOS 7 with new icons that change color dependant on what background image you are using, or could it simply be for the new iPhone 5C with the C meaning Colors? All these questions will be answered tonight but we want to delve a little deeper.
Putting the multi-colored spots aside please take a little look at the gray/silver circles, these could be based around the new ring on the iPhone 5S Home Button resembling the rumored fingerprint scanner to unlock the smartphone.
All the above is a mystery until we learn more when Tim Cook starts the September 10th Apple 2013 event, but what we do know for sure is that the iOS 7 release date for the public will be announced along with the new features. Many have asked if Apple will release iOS 7 to the public today, but we are very doubtful it will be unleashed to the public today, we would suggest late September is more realistic.
Hopefully today we will learn more about the iPhone 5C, iPhone 5S and of course the new iOS 7 public release date.
Do you think the Apple banner graphics with colored dots are to with the new iOS 7 or the new iPhone 5C?