Galaxy S5 software specs could allow multiple video calls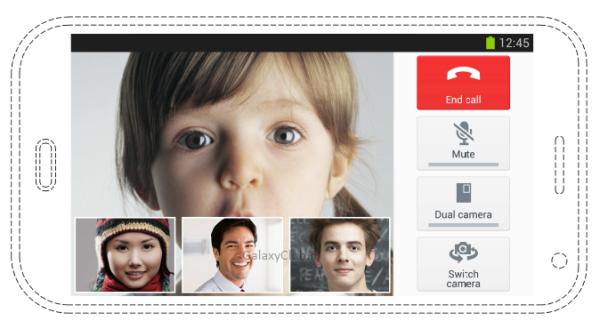 There could be only a few more months to go before we see the arrival of the next flagship smartphone from Samsung, and as usual we are being treated to a number of leaks and speculation about the handset which now include some software specs for the Galaxy S5 that could allow multiple video calling.
We have been hearing a lot of rumours surrounding the release of the Samsung Galaxy S5 recently that have included an aluminium body and the possibility of a wraparound display. Now though a recent document that has been filed to the Korean Intellectual Property Rights Information Service that looks to provide an on board conference calls capability.
It seems that the new software feature will allow owners of the device to make a video call with multiple people and use both the front and back cameras at the same time. It also seems that a video stream will be provided at the bottom of the screen for the other people taking part in the video call.
This feature could easily be integrated into the Samsung ChatOn app or the TouchWiz Android overlay, and while there is already the option of making video calls from the current line up of devices, this can't be done with multiple users.
When Samsung launch a new flagship smartphone it is not unusual for the company to demonstrate some new software feature along with the new hardware to run it, but with the current problems affecting the Galaxy S4 Android 4.3 update as well as the Galaxy S3 many will be hoping that the company sort these issues out first.
Do you like the look of this new video calling feature?
Source: SamMobile.