iPhone 4, 4S iOS 7.1 beta 2 review apparition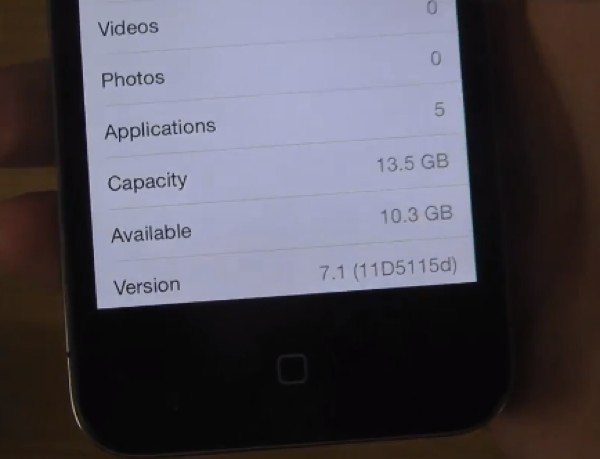 Apple's iOS 7.1 is in development and at present is at the beta 2 stage. We've previously shown readers a review of iOS 7.1 beta 2 for the iPhone 5S and today we have two more videos, this time showing the iPhone 4 and 4S running iOS 7.1 beta 2.
The next upgrade to iOS is expected to release to the public around January time and we've been interested to see what's on offer so far. Apart from the iPhone 5S iOS 7.1 beta 2 review we also showed a video showing the differences between iOS 7.1 beta 2 and the current iOS 7.0.4.
Some of the improvements and benefits for iOS 7.1 may be more apparent for the iPhone 5S, such as improved speeds. However other iOS devices will also be enhanced with iOS 7.1, with plenty of the same changes on the way.
The first 5-minute YouTube video that we've embedded below our story shows the iPhone 4 running iOS 7.1 beta 2 and begins with Passcode being moved under Settings and then a list view inside the calendar. Another change is under Accessibility with button shapes that make it clearer exactly where you should press.
The video also shows that animation speeds may be improved but this is not so apparent with the iPhone 4 as it was with the iPhone 5S. The new iOS 7.1 will also contain a bounce feature for the Control Center when accessed, and there are other changes also shown on the video.
The second video below shows pretty much the same but this time for iOS 7.1 beta 2 on the iPhone 4S. It's noted that speed improvements are much more apparent on the iPhone 4S than the iPhone 4, not surprising perhaps when considering the processor has an extra core.
Once you've taken a look at the two videos embedded underneath we'd appreciate your thoughts. You might also be interested in checking out our earlier post today that looks at a speed test of the Samsung Galaxy S4 on Android 4.4 KitKat vs. the iPhone 5 on iOS 7.1 beta 2.
Are you looking forward to receiving the iOS 7.1 update for your iPhone 4 or 4S? We always appreciate your comments.