iPhone 6 purported frame images emerge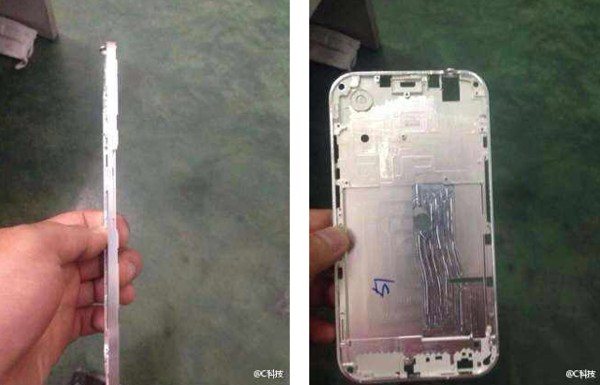 The rumor mill is already well and truly churning out speculation and leaks about the Apple iPhone 6. Although this smartphone is not expected for some time yet, there has already been a lot of conjecture about it having a much slimmer build. Now iPhone 6 purported frame images have emerged that appear to back this up, if of course they are the real deal.
One of the most common ideas that keeps being repeated for the iPhone 6 is that it will have an even thinner form factor than the current iPhone 5S. Recently we informed readers about a report from Korea suggesting that the iPhone 6 will be only 6mm thick, and there have also been thoughts that it could have a larger display of up to 5-inches.
The iPhone 6 has also been the subject of a lot of concept designs, many of them based on current rumors. This has led to several iPhone 6 concept renders using the idea of a very slim and light device dubbed the iPhone Air or iPhone 6 Air.
Now some images have been posted by prolific leaker C-Tech who has a mixed reputation for leaked Apple information. The pictures that we have shown here are claimed to be of the metal casing for the iPhone 6, but of course it's impossible to verify whether these are of the iPhone 6 housing or not.
It's certainly plausible though, and if these are genuine iPhone 6 frames then it does reinforce the rumors about a very slim new iPhone on the way. We'd be extremely interested to hear what our readers have to say about this.
Do you think these images are of the iPhone 6 frame, or do you remain skeptical? Would you like to see the next premium iPhone with such a slim build? Let us know with your comments.
Source: C-Tech (log-in required) Via: G4Games