Nexus 12 is mouth-watering with visionary specs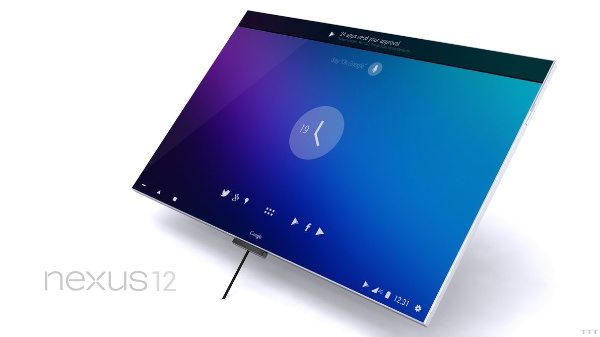 There appears to be a growing trend for larger tablet devices, at least as far as some manufacturers are concerned, and a possible Google Nexus 12 has already been rumoured. After the success of the Nexus 7 and Nexus 10 tablets this seems a logical move and today we have a Nexus 12 with Android 4.5 render to show you with some visionary specs imagined.
Last year we saw the arrival of the Nexus 7 2 but so far the Nexus 10 2 has not materialized. This might make a move to a 12-inch Nexus seem unlikely but others would argue with that. After all, Samsung has recently announced the Galaxy Note Pro 12.2 and Galaxy Tab Pro 12.2 and there are also rumors that Apple is working on a larger 12.9-inch tablet, so a Nexus 12 seems plausible.
Occasionally we like to share concept designs of devices as these can give us a really good idea of what might be offered and tease us with all sorts of possibilities. The Nexus 12 concept that you can see here comes from DeviantArt member TheTechnoToast who has previously come up with a different Nexus 12 design and also a Nexus X.
This latest Nexus 12 render is very sleek with a Sapphire Crystal display. It's made from one piece of matte stainless steel with the power button and edges of the device having chamfered edges. It runs Android 4.5 with 3 different options, stock, a skinned version (shown here), and rooted with CyanogenMod. There's a dedicated Google Now button as well as a new notification system where messages appear at the top of the device.
As far as the specs go these are on the wild side and decidedly unrealistic. Nevertheless it's certainly interesting to see the designer's ideas in this respect and so this Nexus 12 is powered by a 3.4Ghz Snapdragon 2000 octa-core processor and has a 12-inch Super AMOLED display with 5K resolution of 5120 x 2700 and 482 ppi.
Further futuristic specs of this Nexus 12 include 6GB of RAM, a 32-megapixel rear camera with 8K video recording capability, 5-megapixel front-facing "invis" camera and speaker (hidden behind the display), 8000 mAh battery, and USB 3.0 charging port.
Features include smart touch technology so that accidental touches on the side edges of the display are ignored and there's a touch-sensitive volume slider. As well as all this the tablet has multi-booting for Ubuntu, Windows RT and Chrome.
The designer has even come up with prices with the LTE-enabled tablet costing £350 for the 32GB version, £450 for 64GB or £550 for 128GB. Okay, so the specs may be something to dream about for now, but the styling of the tablet is pretty impressive and should get some mouths watering. It would be interesting to hear what readers think about this sophisticated Nexus 12 concept design.
Are you hoping that Google is working on a 12-inch Nexus tablet, (even if the Nexus brand may be dropped next year)? Would you like to see the real Nexus 12 looking like this render, although with more realistic specs? Let us know with your comments.
Source: DeviantArt