Domino Nexus Zero smartphone is 6-inches of beauty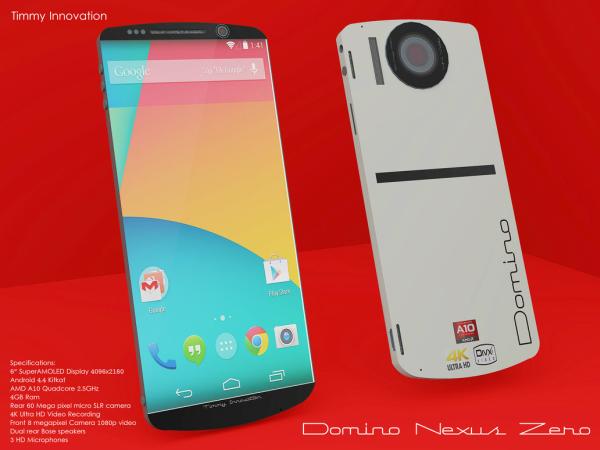 Smartphone manufacturers are constantly trying to come up with new ways to tempt consumers to their products as the market is getting more crowded all the time, but the Domino Nexus Zero smartphone design we have for you today is 6-inches of beauty packed with high end specifications.
We often bring our readers concept designs from a variety of sources, and already today we have seen a Nexus 6 design and a TV ad for a Samsung Galaxy S5 design. The image that you can see on this page comes courtesy of Deviantart user Doctor Timmy and is called the Domino Nexus Zero.
The handset has been inspired by designers love for the game of dominos, and features a 6-inch Super AMOLED display at a 4K resolution, which could be seen next year on Samsung flagship handsets.
Under the hood we have an AMD A10 quad core processor clocked at 2.5Ghz making it ideal for gaming, which is paired with 4GB of RAM. This is running a stock version of the Android 4.4 KitKat operating system, and there is a massive 250GB of internal storage that is expandable further via microSD card.
The main camera has a 60-megapixel sensor with micro SLR capabilities for vivid and sharp images, which is of course capable of 4K video capture. Around the front is an 8-megapixel unit capable of Full HD video recording, and supplying the audio are twin Bose speakers with micro subwoofers placed on the back.
While a lot of these specifications are a little farfetched for 2014, it's nice to think what might be available in a couple of years.
Do you like this smartphone design?