Samsung Galaxy S5 16-megapixel camera reinforcement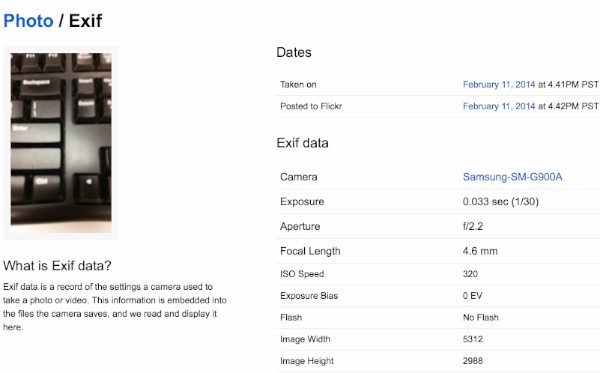 The Samsung Galaxy S5 release is drawing closer with an expected launch event taking place next week. We've seen huge amounts of leaks and speculation about many aspects of this device. One of the most long-standing rumors is that the Galaxy S5 could feature a 16-megapixel rear camera and now there is further reinforcement of this.
Hype and excitement for the next Samsung Galaxy flagship smartphone is really building now and just yesterday there was a further leak about the display and resolution. There has also been a recent teaser that the phone could be waterproof, although until Samsung announces the phone this cannot be confirmed.
Rumors about either a 16-megapixel or 20-megapixel camera have also been out in the ether for some time and now a new leak suggests that the handset will indeed have a 16MP rear shooter. Prolific leaker @evleaks has now come up with a test photo for AT&T claimed to have been taken with the Galaxy S5 SM-G900A.
The attached Exif sheet data for the image (linked to in the tweet source above) tells us that the full resolution photo is 5318 x 2988 pixels, and this nicely equates to a 15.9-megapixel sensor. In another snippet we learn that the Galaxy S5 camera also has an f/2.2 aperture, good for shots at night.
As Evleaks is a very good source of reliable information on upcoming devices, we're pretty convinced that on the unveiling of the Galaxy S5 a 16-megapixel rear camera will now be confirmed. Thankfully it's not too much longer until February 24 when all will hopefully be revealed.
Have you been following developments for the Samsung Galaxy S5? Are you pleased to hear that a 16-megapixel camera now looks virtually certain for the phone, or maybe you were hoping for a 20-megapixel sensor? Let us have your comments on this.