New Windows Phone 8.1 revelations of IE 11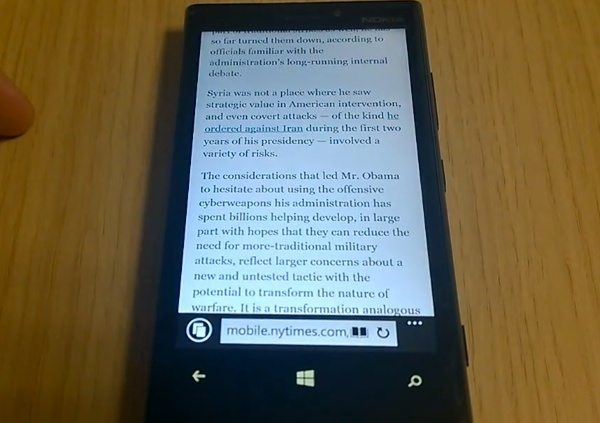 There's a lot of interest in the upcoming update for the Windows Phone operating system. Windows Phone 8.1 Blue is in development and we've already seen numerous leaks about what's in store with the update. Now there are some new Windows Phone 8.1 revelations concerning IE 11.
Some of the aspects we've heard of so far for the Windows Phone 8.1 release include the Cortana Windows Phone voice assistant and quick settings. More recent leaks have concerned new Action Center notifications and hardware changes including support for more Qualcomm chipsets, apps on microSD, support for dual-SIM handsets and more.
The changes and improvements with WP 8.1 will be extensive and now a video has emerged showing Internet Explorer 11 on Windows Phone 8.1. Some changes apparent are support for password saving, a reading view mode, and the stop/refresh button now appearing within the address bar.
We've embedded the YouTube story below this story so you can check it out for yourselves. It's still not clear exactly when the update will start to roll out for Windows Phone device users, although we recently heard that a developer preview should be available in April.
One reassuring piece of news was recent affirmation that the update will be backwards-compatible to WP 8 devices. Are you looking forward to the arrival of the Windows Phone 8.1 update? What changes do you think will be most useful, and is there anything you'd particularly like to see with the upgraded OS?