Android 4.4.3 existence proven by Google app update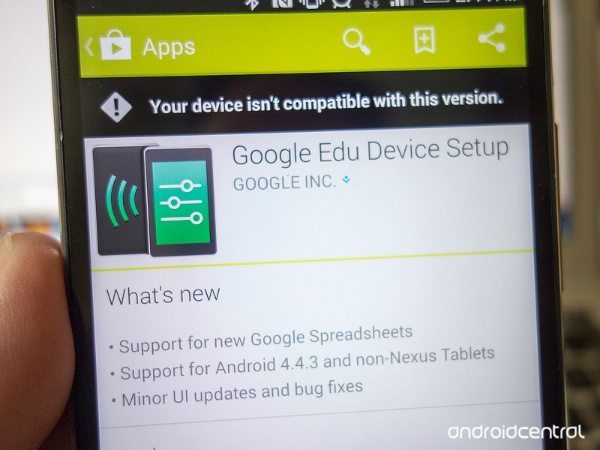 We've been seeing evidence of the Android 4.4.3 KitKat update on the way since last month and just lately we've seen more signs appearing. However, Google still has not officially announced that the update is in the pipeline. Now though, the existence of Android 4.4.3 has been proven by a Google app update.
It was in March that we first heard that Android 4.4.3 was in testing and then last week we told how the update should start hitting more devices soon, after it was reported that the Nexus 5 on Sprint was about to receive it. However, there was some confusion as that firmware update never actually arrived, and evidence of it was then removed from the Sprint website.
Android 4.4.3 has already been certified for the Sony Xperia Z Ultra GPE though, and if we were left in any doubt at all, this latest news reinforces that Android 4.4.3 hasn't been a figment of the imagination. The Google Edu Device Setup app is an official Google app that assists with the setting up of tablets for educational purposes, and a few days ago the app was updated.
The changelog for the app update states among other things that the app now has "support for Android 4.4.3 and non-Nexus tablets." As the Google Edu Device Setup app is developed by Google Inc., this appears to erase any uncertainty that the update is still coming. Hopefully we'll hear something official on this soon. Are you eagerly waiting for the Android 4.4.3 update?
Source: Google Play
Via: Android Central