Galaxy S3 GT-I9300 may get Android 4.4.3 update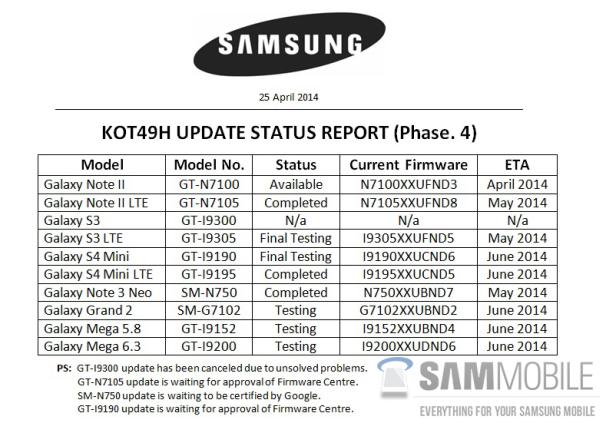 There has been a lot of anger levelled at Samsung over the last few months regarding the GT-I9300 version of the Galaxy S3. Not only has it been left running a bug ridden version of the Android 4.3 Jelly Bean firmware, it has seemed that it won't get a taste of KitKat. Now though following a leak from a reliable source the international version Samsung Galaxy S3 may get the Android 4.4.3 update.
Some versions of the Galaxy S3 have already begun receiving the Android 4.4.2 KitKat update while others have been promised it soon, but now following the leak of this table that you can see on this page via SamMobile owners of the international version may still have some hope.
There are said to be unresolved problems with the firmware for the international S3, but a source is claiming that Samsung is under pressure from Google to still provide an update for the device as it was less than 18 months old when KitKat was first introduced.
So this may mean that the handset skips straight to Android 4.4.3 at some point in the future. As you can see from the table a number of other Samsung handsets are getting closer to seeing Android 4.4.2 KitKat such as the Galaxy Grand 2 and the Galaxy Mega handset.
Update: The source has now said that Samsung has been having issues getting TouchWiz applications to work correctly, but the problem is not down to the fact that the handset only has 1GB of RAM.There has been some official confirmation on the matter and it isn't good news more here.