Samsung Galaxy S3 vs Galaxy Note 2, 4.4 vs 4.3 comparison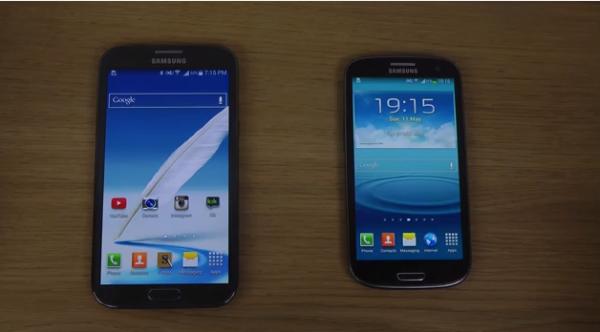 The headlines have been filled in recent weeks with the bad news that some owners of a certain Samsung smartphone won't be getting treated to the Android 4.4.2 KitKat update, but today we have a video for you looking at the Samsung Galaxy S3 vs. Galaxy Note 2 in an Android 4.4 vs. 4.3 comparison.
While owners of the international Galaxy S3 look set to miss out on Android 4.4.2 KitKat, although there are still hopes that Samsung has changed its mind, the Galaxy Note 2 rollout of the new firmware is already underway. Today we have a YouTube video looking at the speed of the two handsets.
The video starts by showing us the relative firmware the two handsets are running before we have a look at the differences in the UI. We also get to see the new camera shortcut on the Galaxy Note 2 via the lockscreen before moving onto the Internet browser.
You may want to check out our previous article that was comparing the Galaxy Note 2 with the Note 3 in a speed test.
Will you be disappointed if the Galaxy S3 doesn't get a taste of KitKat?