iOS 7.1.2 update to drop soon with problem fixes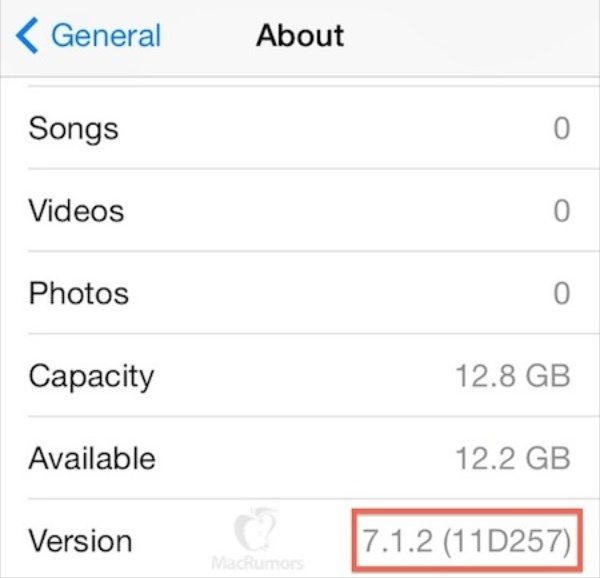 If you are one of the Apple iOS device users that have been plagued by problems with iOS 7.1.1 there's some welcome news for you today. It appears that the iOS 7.1.2 update is to drop soon, and should arrive at some point over the next two weeks, and hopefully this will provide a cure for some of the issues that have been reported.
In late April shortly after the arrival of iOS 7.1.1, some users noted battery life issues affecting their devices. It then quickly became apparent that some users were facing other difficulties, and iPhone 5S, 5C and 4S users as well as iPad owners noted these.
By late May we heard leaks that iOS 7.1.2 was in testing and was most likely to be a minor upgrade concentrating on bug fixes, and this gave hope that solutions to the various problems were on the way. Now a new report says that iOS 7.1.2 is anticipated to arrive for consumers within the next couple of weeks, according to sources familiar with the matter.
The update is thought to include the bug fixes rumored previously as well as security patches and also iBeacon connectivity improvements. One of the fixes is for a problem that Apple has acknowledged regarding the encryption of email attachments. Other fixes thought to be on the way should solve the email app not downloading email messages, a lock screen vulnerability and third party data transfer issues.
Apple also previously stated that a solution was in the pipeline for an iMessage problem that was affecting owners who had previously used an iOS device but changed platform. It's good to know that iOS 7.1.2 is on the way and we look forward to seeing if the majority of issues reported following iOS 7.1.1 are resolved.
Users of iOS devices will receive notification of the OTA update, so you might want to check your device from time to time to see if iOS 7.1.2 has arrived. You might also like to find out more about what we know so far about iOS 8 that is heading for a fall release, and you can see our many articles on the next major mobile operating system update here.
Have you got an iPhone or iPad that you've been having problems with following the arrival of iOS 7.1.1? What are you most hoping to see fixed with the iOS 7.1.2 update?
Source: MacRumors