Nexus 6 prospect still on, meets Android Silver design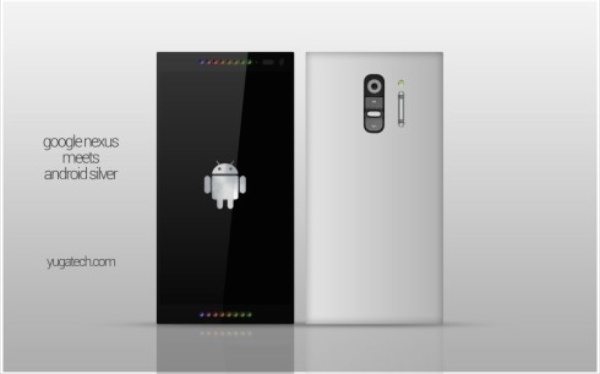 There's a lot of confusion over whether there will be a Nexus 6 smartphone released last year, and this follows talk of the Android Silver program. This is thought to involve Google providing standardized software to top-end devices from big-name manufacturers and led to speculation that it might signal the end of the Nexus range. However there are now reports that the Nexus line is to continue, meaning the Nexus 6 prospect is still on, and we also have a Nexus meets Android Silver design idea to show today.
The Android Silver project is said to be beginning next year and when we first reported the program it was thought that we might see one further cycle of Nexus devices, including the Nexus 6 and Nexus 8. However, in May doubt that more Nexus devices would appear was cast, when reliable leaker @evleaks suggested there would be no Nexus 6.
A few days ago a new report surfaced though, and this states that there will be a new Nexus device when Google releases the new major version of its mobile operating system Android L. We saw news on Android L last week at Google I/O and it's currently in beta for developers and is expected to make a public release in the fall.
The report cites the head of Android Engineering and the Nexus program Dave Burke as confirming that the Nexus program lives on. Burke said that Google "are still invested in Nexus" and followed this by saying, "Android Silver is not something that we are commenting on right now. But the prospect of Silver doesn't mean that Nexus is going away."
It does look as though the Nexus 6 is now likely to make an appearance later this year, and with that in mind you might like the concept render we're showing here. This comes from well-known designer Bob Freking who has come up with a pairing of Android Silver and Nexus and dubbed it, "Google Nexus meets Android Silver.
The handset shown in this image seems to take design hints from the LG G3 and Nokia Lumia devices, combining them into a very sleek and elegant vision. You might also be interested in a previous idea we showed for an Android Silver design.
We'd be really interested to hear your thoughts on this new concept for a Nexus/Android Silver device? Are you pleased to hear that the Nexus line does look set to continue after all?
Sources: ReadWrite AND Yugatech
Via: Concept Phones