Upcoming iPad Air leaks in pictures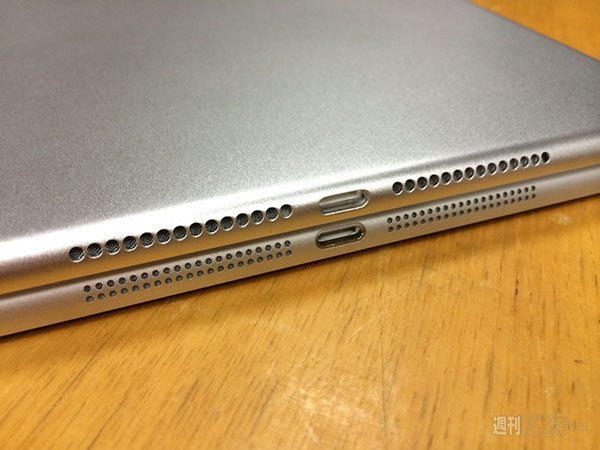 There have been a lot — and by a lot, we mean a lot — rumors, leaks, and pictures, of the upcoming Apple iPhone 6, both in its alleged 4.7, and 5.5-inch incarnation, but we haven't seen that many pictures of the upcoming iPad Air, tentatively called the iPad Air 2. Apple is expected to unveil its 2014 line-up of phones, allegedly consisting of two larger-screened devices this fall. Some call both of them the iPhone 6, some refer to the iPhone 6 and the iPhone Air. We'll have to wait until the phones get finally announced in order to see who's right and who's wrong. As far as the upcoming flagship tablet is concerned, we've seen a dummy or two get pictured, but nothing major we can go by, despite probably being able to predict the upcoming device's features.
The pictures attached, and more at the source link, have been posted by a Japanese website, and, allegedly snapped off of an upcoming iPad Air 2 mock-up. This being a leak (and a dummy), we advise you to grab your usual drain of salt, as often times the final product might end up looking differently. That being said, this iPad Air 2 mock-up shows a device that will be even thinner that the current iPad Air, which is not at all thick at 7.5mm. Other changes are notable as well, like the new, recessed volume buttons (opposed to the current button layout, which is raised), and the addition of the Touch ID fingerprint scanner, one of the main selling points of the iPhone 5s.
If you check out the other pictures you'll see that the rotation lock button is gone, and that Apple has somewhat redesigned the bottom edge of the slate (where the port and the speakers reside). Else, not much is changed in a dramatic way on the outside. On the inside though, the upcoming iPad Air 2 is expected to pack a screen which will use the same resolution as the current model, while reportedly employing Apple's next-generation A8 processor. The camera will also be allegedly upgraded to an 8-megapixel unit on the back, a step-up from the current 5-megapixel shooter on the iPad Air.