Nexus 6 release date window envisioned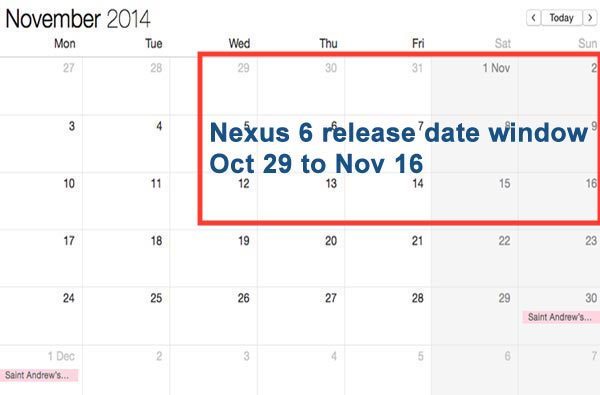 One of the most hotly anticipated smartphones for this year is the Nexus 6. Although there's still nothing official about this phone, it's expected to launch later this year running the new Android L OS update that is headed for an arrival with the public in fall. Now we have the Nexus 6 release date window envisioned.
One of the questions we are most asked at Phones Review is "when will the Nexus 6 release?" Considering that for a while there was some doubt over whether there would even be a Nexus 6, that might sound a little premature. However recently, a Google executive implied that the Nexus line would still continue despite the Android Silver program.
We don't even know who the manufacturer will be yet, despite the many rumors, although it now looks unlikely to be LG. There have been suggestions that HTC is involved, and you might like to check out a recent render of an HTC Nexus 6. While the maker is still not known, there has been evidence of the existence of the Nexus 6, and a launch time is likely to tie in with the pattern of previous Nexus smartphone releases
The Nexus 4 was officially unveiled on October 29, 2012, and released on November 13. Last year the LG-made Nexus 5 was revealed on October 31, 2013 and released on Google Play on the same day for online purchases. Taking this into account, the image here highlights what we expect to be a release window for the Nexus 6, somewhere between October 29 and November 16, 2014.
One thing for sure is that we'll be following all of the developments for the Nexus 6 and will keep readers informed as we soon as we hear more. We included the Nexus 6 in an earlier article about upcoming phones for the remainder of this year, and you might like to check that out to remind yourself of what else is on the way.
Are you eagerly waiting for the Nexus 6 to debut? What's on your own personal wish list of specs and features for this phone?