Nokia Lumia 530 specs reveal online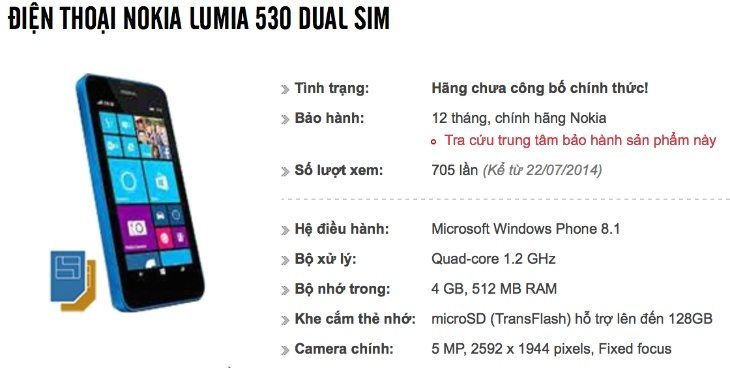 We've been hearing dribs and drabs about the Nokia Lumia 530 for a while now. This will be a follow on from the popular Lumia 520 and 525 and running Windows Phone 8.1. Now we have some further unconfirmed information, with a Nokia Lumia 530 specs reveal on an overseas website.
Back in May we saw a benchmark spot for an unnamed device that could be the Lumia 530 and this was followed by an unverified leaked image. Then earlier this month it appeared that the release of the phone was nearing, with news that the Lumia 530 dual-SIM has passed through the FCC certification process.
Now Vietnamese web store Mainguyen seems to have really spilled the beans as the Lumia 530 has appeared listed on its site. While we cannot confirm the leaked specs are accurate we'll point out that information that previously appeared on the same site regarding a couple of Samsung handsets turned out to be accurate.
The dual SIM Lumia 530 specs that are listed include a 1.2GHz Snapdragon 200 quad-core processor, a 4-inch display with resolution of 854 x 480 and ClearBlack technology, 512MB of RAM and 4GB of internal storage. There's a 5-megapixel rear camera with 720p video capture, a 1430 mAh battery, and dimensions are 119.7mm x 62.3mm x 11.7mm.
If these leaked specs are the real deal then it looks as though the Lumia 530 will be a pretty minor upgrade to the 520, although it's also thicker and has half of the internal storage. Color options are green, grey, orange or white, but rather oddly the associated image on the product page shows it in blue so it's anyone's guess at this stage! We should also mention that previous rumors suggested the Lumia 530 display size would be 4.3-inches, but of course that earlier speculation could be wrong.
Are you eager to see the Nokia Lumia 530 made official? What are your thoughts on these leaked specs for the device? Let us know with your comments.
Source: Mainguyen (Vietnamese)
Via: GSMArena