Spigen iPhone 6 Plus case with card holder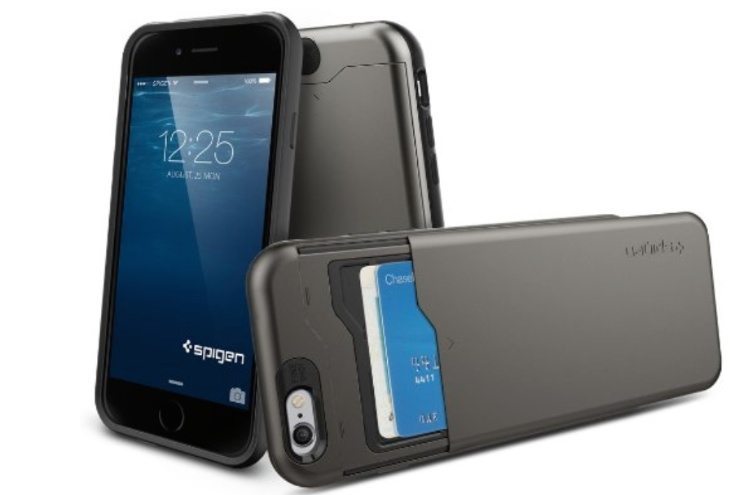 The iPhone 6 Plus release is now only days away and many buyers will be considering kitting up with useful accessories. There is already a vast selection of iPhone 6 Plus cases up for sale, and today we want to delve further into the Spigen iPhone 6 Plus case with card holder.
We mentioned this case briefly in our roundup of some of the best iPhone 6 Plus cases available from Spigen and Otterbox. As it's likely to be extremely popular we thought we'd bring you some more information. In our previous article detailing Spigen iPhone 6 Plus cases we told how the Slim Armos CS case with card holder was priced on the official Spigen website at $39.99 where it's now available to pre-order.
However, we've now noticed that the very same case is currently on sale at this Amazon product page for just $18.99, making it a pretty good bargain. Amazon also provides a September 30 date for when they expect the case to be in stock. This iPhone 6 Plus Case Wallet in the Slim Armor range features a vertical sliding compartment card holder for up to two cards and also offers advanced shock absorption
The wallet case is made from matte TPU+ and matte polycarbonate for dual-layer protection, and this accessory not only protects your phone but offers secure storage for your credit cards as they are concealed. If you want to check out what buyers so far think about this case head to this Amazon page.
You might also want to read two of our previous articles on iPhone 6 Plus cases. One is for LifeProof waterproof cases for the smartphone while another covers further cases for the phone from various retailers. Are you intending to purchase the Spigen iPhone 6 Plus Slim Armor Case Wallet?